The Roundup: Lessons From 'Masters of Disaster'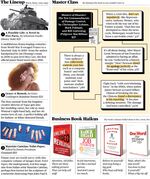 The week's cultural offerings, from a damage control handbook to Sebastian Faulks's latest novel to a collection of cool and edgy images by an underground, avant-garde artist—and select business-related books, reviewed (how else?) in haiku form.
Before it's here, it's on the Bloomberg Terminal.
LEARN MORE