The Autumn of Apple's Discontent
By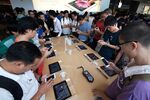 Do the laws of gravity apply to Apple shares? That seems to be the message from traders who pushed the stock down 23 percent, to 545, from September's all-time high of $705. Apple saw its greatest dive in four years on Wednesday, and while it bounced back a smidge on Thursday morning, that one-day plunge erased $35 billion of market value.
A nation holds its breath. Sort of.
Remember the old bit about a General Motors car in every garage? Today, iPhones, MacBooks, and iPads seem just as ubiquitous, especially at Starbucks. As Cupertino goes, they say, so goes the nation.
But Apple's future is not just about us Big Mac-scarfing Americans.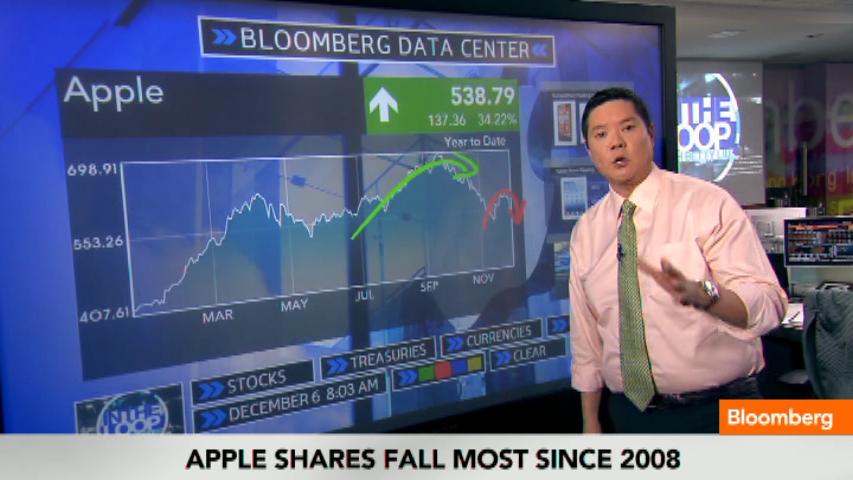 Alas, much of Wednesday's tumble was attributed to chest-thumping comments made by China Mobile's chief executive officer at a conference in Guangzhou. Li Yue said his wireless network, the world's largest, wouldn't add the iPhone without good terms from Cupertino. "The business model and benefit sharing still need further discussion," he remarked. The iPhone is available, and with subsidies, on China's two smaller carriers: China Unicom (Hong Kong) (CHU) and China Telecom.
At the same time, China Mobile said it would be offering Microsoft and Nokia's iPhone challenger, the Lumia 920T Windows 8 Phone. Compare this paradigm with the blessing and curse that was AT&T's long-lived iPhone exclusivity.
Apple has also so far disappointed investors hoping for a special mega-dividend ahead of the U.S. fiscal cliff. In perhaps a homage to the ignore-the-stock air affected by his late predecessor Steve Jobs, CEO Tim Cook, who we interviewed for this week's cover, has yet to cut such a check, even though the company is carrying more than $120 billion in cash and short-term securities.
Edward Zabitsky of Toronto-based ACI Research is the only analyst among the more than 60 who cover Apple who has an actual "short sell" rating on the shares, according to data compiled by Bloomberg.
Since January, Zabitsky has been arguing that Apple is headed to $270 a share, given increased competition, the diminishing appeal of its closed-architecture App Store experience, and shakier management and innovation without Jobs.
Zabitsky says Apple nemesis Samsung Electronics is challenging Cupertino with smartphones that offer bigger screens, picture-in-picture video, and a new user interface called multi-window. "In the longer term," adds Zabitsky, "Apple's app-store model is breaking down. Apple now represents 'Web 1.5,'" an era, he says, when its app system overcame a general lack of bandwidth and Internet standards.
Begging to differ: Eric Jackson, managing member of Ironfire Capital, a hedge fund that is long Apple. Last month, Jackson debated Zabitsky on Canada's Business News Network.
In November 2011, Jackson points out, there was similar consternation when Apple shares fell 15 percent. "We heard enormous bearishness at the time," recounts Jackson. "'Steve Jobs's magic is gone now that he's dead; Apple can't keep growing because it's so big; all the technical indicators are pointing to Apple going to $300; there's increased margin pressure.' We hear the same complaints now.  However, Apple has since proceeded to double."
Jackson says it's only natural for such a successful stock to get ahead of itself and leave investors wringing their hands about the prospects of future growth. "I still see lots of runway for growth ahead," he says, noting that Apple sells 29 million iPhones a quarter, vs. Samsung's roughly 100 million mobile phones.
Counting feature phones and smartphones, Apple accounts for just 15 percent of all mobile phones. "In a few years from now," Jackson predicts, "those feature phones are going to go away, and most of the world, from Boston to Bangkok, will be on smartphones. My guess is that Apple will get a lot of those people. We could see their global market share double." The iPhone, he points out, currently chips in half of Apple's revenue and 70 percent of its profits, "so a tripling of its volumes isn't insignificant."
Throw in an Apple TV next year and a possible i-payments system, and Jackson thinks it's "very possible" that Apple could triple its earnings and stock price by 2016.
Zabitsky says that such successful iPhone margins or Apple TVs are hardly assured and should not be baked into the stock price. He says he's also worried about management discord in Cupertino, as illustrated by the recent ouster of Scott Forstall after Apple's botched attempt to box out Google Maps. Such signs of weakness from the company, he says, will only embolden Apple's wireless carriers to demand more of a cut from iPhone sales.
Jackson counters that Apple has had a major stock price decline once a year for each of the last eight years, one as bad as 52 percent from top to bottom. Each and every time, the stock's decline has been followed by what Jackson oxymoronically calls a "violent upward move" of 40 percent to 100 percent.
If you like the sound of "violent upward move," then you will absolutely adore "death cross," a technical alarm that Apple shares just sounded. Both are also great names for a garage band.
Before it's here, it's on the Bloomberg Terminal.
LEARN MORE