Hogs Are Trouble on a Texas Highway
Feral porkers are jumping into traffic on a new 85-mph highway
By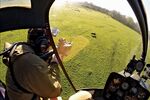 On the night the fastest highway in the U.S. opened, police in Lockhart, Tex., rushed to the 85-mile-an-hour road to deal with three collisions. Drivers typing text messages or putting on lipstick weren't to blame. The problem was wild hogs. The black, bristling beasts—which can top 400 pounds—roam the ranchland that surrounds the 41-mile expressway connecting the towns of Seguin and Mustang Ridge. While nobody died in the pig accidents, police worry that eventually somebody will. "It's like a racetrack," says Michael Lummus, Lockhart's police chief. Captain John Roescher adds, "We've had a bunch of hogs killed."
Feral hogs were already the scourge of Texas farmers and golf greenskeepers. More than 2 million root around in all but one Texas county, wreaking an estimated $50 million in farm-related damage annually, according to Billy Higginbotham, a Texas A&M University professor and ag extension agent who's made a career of studying the pigs. The state is having trouble keeping the pig population down despite incentives like the $2-a-tail bounty offered by Lockhart's Caldwell County and contests to bag the varmints sponsored by sporting goods stores. That's partly because the animals have caught on to old-fashioned traps lined with corn. Says Higginbotham: "We've eliminated a lot of the stupid hogs from the gene pool."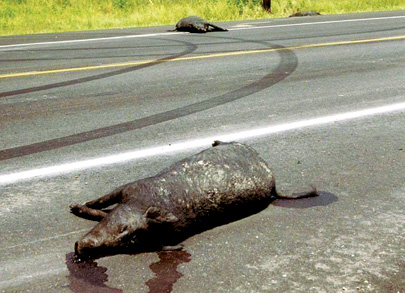 Last year Texas began letting hunters shoot pigs from helicopters. Mike Morgan, president of Vertex Tactical Aviation in Houston, says his one- and two-gunner flights can take out 35 to 100 in a few hours. First, though, he often has to fight for landowners' permission to fly over their property. "They are worried about some yahoos shooting out of a helicopter," he says. An upside to the shooting is that some people enjoy dining on the pigs—the young ones—that are made into ham and sausage. "I've eaten feral hog my whole life," says Gary Dickenson, a seed sales manager in Lockhart. "They are good eating."
Drivers testing out the new $1.3 billion highway, a bypass around Austin, hit pigs even before it opened on Oct. 24, according to Higginbotham. "At 85 miles per hour there's not much time to react, and those hogs are built solid," says Arnold Zwicke, sheriff for Guadalupe County, which has had four pig crashes so far. Police say there's little they can do because two companies—Madrid-based Ferrovial and San Antonio-based Zachry—operate the toll road as a joint venture under a contract with the state. The companies, says their spokesman Chris Lippincott, are putting up wildlife-crossing warning signs. "We think the animals are beginning to wise up," he says.
BOTTOM LINE -
The bottom line: Wild swine have been tearing up Texas farms and golf courses for years; now they're causing wrecks on an Austin area expressway.
Before it's here, it's on the Bloomberg Terminal.
LEARN MORE