Grover Norquist's Influence Fades as Republicans Break Rank
Prominent Republicans signal end runs around the Taxpayer Protection Pledge as the fiscal cliff looms
Jennifer Daniel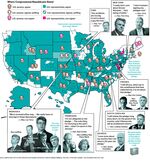 For more than two decades, congressional Republicans have been signing Norquist's Taxpayer Protection Pledge, swearing not to raise taxes. As the fiscal cliff looms and negotiations with the Democrats heat up, many signers are reconsidering their allegiance.
— With assistance by Heidi Przybyla
Before it's here, it's on the Bloomberg Terminal.
LEARN MORE