Boehner Meeting Leaves Small Businesses Doubting Cliff Deal
By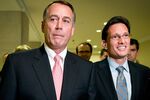 To hear some of the small business owners who attended Wednesday's private meeting with House Speaker John Boehner and other GOP leaders tell it, no compromise is near to avoid the tax increases and spending cuts set to take effect Jan. 1. The Republican event follows President Barack Obama's attempt last week to reassure Main Street companies that he'd reach a deal. Obama and Boehner are "at opposite ends of the field," says Brian Scott, chief executive officer of Scecon, a 30-employee Portsmouth (Va.) company that designs sets and exhibits. "If there's movement, it's sure a big secret."
He sees trouble from both directions if the automatic deficit-reduction measures go forward. About half of his business comes from federal contracts, creating exhibits for military events, and spending cuts threaten that business. At the same time, he says higher income tax rates will hamper his ability to invest in his company and would likely keep him from hiring one or two new workers next year. (Although profits spent on hiring or other expansion would be deductible, he would have to pay tax on the earnings if they weren't re-invested in the same year.)
The biggest issue for his business, Scott says, is uncertainty. "We have people who are holding up on doing projects we would like to design," Scott says. That helped cause revenue, which had been surging even through the downturn, to drop by 20 percent in 2012, he says.
When I asked him how the government could preserve his current tax rates and avoid the defense spending cuts that might hurt his business, Scott said the savings could come from entitlement spending. "I'm looking at lots of entitlement programs that are out there, some of them that are absolutely reasonable, and some that just no one is willing to do the work to revamp and make them responsible."
Another one of the nine small business owners who attended the session with Boehner, Dan McGregor, chairman of McGregor Metal, also left less than confident. "The real danger is that people on Main Street say this just isn't working," says McGregor, whose Springfield (Ohio) metalworking business employs 365 workers. "The two guys have to get in a room and negotiate." He says the House Republicans have put out their plan and "they're waiting for the phone to ring."
Don Fox, whose Jacksonville (Fla.) chain of franchised Firehouse Subs shops has 562 locations, says he sees room for compromise on long-term debt problems if both sides work on ways to increase revenue and lower spending. "I'm not going to say that I am happy at the prospect of paying higher taxes, but you know what, I'm willing to do it," he says. "That's got to be accompanied with some frugality and some discipline on government spending."
Fox suggests one compromise: limiting the tax increase to people earning over $1 million a year, rather than the $250,000 threshold that would be effected if the Bush tax cuts are allowed to expire. Of course, most of the benefit from those tax cuts goes to people other than small business owners.
While it seems like Obama and Boehner aren't any closer to getting in a room to negotiate, some Republicans are making noises about compromising. Fox says he'll be optimistic if he sees the leaders talking directly, rather than posturing in the press. If he doesn't, his stores might sell fewer subs in 2013. "If they haven't gotten together face to face, then I fear that one side or another has an ulterior motive, and one side or another is willing to go over the cliff," he says.
Before it's here, it's on the Bloomberg Terminal.
LEARN MORE