Bid & Ask: HSBC, Freeport-McMoRan, KingSett Capital, ADM
Noteworthy expenditures of the week
by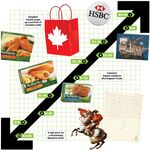 1. In a move to revive profit and boost capital, HSBC Holdings is selling its stake in China's Ping An Insurance Group to Thai billionaire Dhanin Chearavanont for $9.4 billion.
2. Freeport-McMoRan Copper & Gold will pay $9 billion for Plains Exploration & Production and McMoRan Exploration, gaining oil fields in the Gulf of Mexico and other energy assets.
3. Toronto-based real estate investor KingSett Capital will bid $4.4 billion for Primaris Retail Real Estate Investment Trust to add shopping malls in Canada.
4. The world's No. 1 corn processor, Archer Daniels Midland, raised its bid for GrainCorp by 3.8 percent, to $2.9 billion, after the Australian grain handler rejected an earlier offer.
5. Australia's Woodside Petroleum will pay as much as $2.3 billion for a 30 percent stake in Israel's Leviathan natural gas field as part of a joint venture with Noble Energy and others.
6. Canadian dairy products giant Saputo will acquire Dean Foods' Morningstar Foods unit for $1.5 billion to further expand in the U.S.
7. Germany's largest retailer, Metro, is selling its Real grocery stores in Poland, Romania, Ukraine, and Russia to Groupe Auchan of France for $1.4 billion.
8. Blackstone Group affiliate BRE Select Hotels will pay $1.2 billion for Apple Six, a real estate investment trust that owns 66 hotels across 18 states, with brands including Courtyard by Marriott, Fairfield Inn, and Hilton Garden.
9. Atlanta-based Equifax, a credit-information company, will pay $1 billion for the credit-services unit of Computer Sciences.
10. A letter, dated October 1812 and handwritten in code, in which French Emperor Napoleon Bonaparte vows to "blow up the Kremlin" sold for about $244,000 at a Paris auction.
Before it's here, it's on the Bloomberg Terminal.
LEARN MORE