Why Soft Skills Matter
Roxanne Hori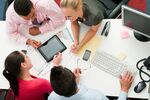 While you may be juggling the end of fall recruiting and studying for final exams, you're probably looking ahead, at the same time, to next term's classes in your MBA program. If you're like many MBA students, you'll likely try to take as much finance, marketing, strategy, operations, and other classes in hopes that the knowledge gained will help you secure the right summer internship and, eventually, a full-time position.
Taking these "hard skills" classes is important, especially if you're a career changer. In addition to taking these foundational classes, however, you should also start thinking about what you need to know for the future for a particular job function or industry. If you plan ahead now, you'll be more likely to succeed later and move through the ranks more quickly once you land in your career after graduation.
Thanksgiving week, I had the opportunity to travel with some of our students to Los Angeles to meet with companies in the media and entertainment industry. I spent an interesting couple of days talking with representatives from seven organizations and hearing their thoughts on the most important skills needed on the job.
The biggest surprise to many students was the emphasis on soft skills. Yes, your knowledge of the functional area you're pursuing is important. But to succeed longer term in any of the organizations we visited, having strong team skills and knowing how to build and manage relationships were seen as just as important.
One of the individuals we met went so far as to suggest that students should take as much organizational behavior coursework as possible. This was not the first time I've heard this comment from someone on the corporate side.
As you progress in your career, you will move beyond doing the nitty-gritty work most MBAs are focused on in the first few years of their career. As you move into leadership roles, the key skills that will determine your success will be around your ability to interact with others in a highly effective fashion.
So as you think about classes to take during the rest of your time in school, consider that course on leading and managing teams, power in organizations, or negotiations. While you're home during the holiday break, talk with people about their jobs and the skills they find most important for their success. Take advantage of being back in school to take as many different courses as possible so you can build the foundation for your future success.
Join the discussion on the Bloomberg Businessweek Business School Forum, visit us on Facebook, and follow @BWbschools on Twitter.
Before it's here, it's on the Bloomberg Terminal.
LEARN MORE