Wharton MBAs Tap Into Alumni-Sourced Student Loans
By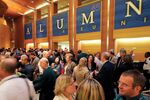 Fifty MBAs at the Wharton School will receive the first loans made by a new player in the alumni-sourced lending market.
CommonBond, a startup founded by a Wharton alum, said this week it will lend $2.5 million for students to pay for the coming semester. That beats the $2 million loan forecast the company made in July. It also shows viability and continued momentum for alumni-sourced loans at large—an area that to date has been dominated by SoFi, a startup lender in San Francisco. In July, Prodigy Finance, based in London, said it had arranged $28 million in similar types of loans between alumni and students of the University of Oxford's Saïd Business School and other MBA programs since 2007.
"I think the idea really resonates. We're still in the early days of this market, and it's gaining more and more in popularity," says David Klein, CommonBond's chief executive and co-founder.
In general, alumni-sourced loans are simpler and cheaper than other options. Students don't have to produce the reams of paperwork most banks require, and the interest rates (6.24 percent) beat that of the federal Stafford Loan for graduate students (6.8 percent) as well as the federal Direct PLUS loan (7.9 percent).
Alumni who invest in CommonBond's loan pools get a return of more than 4.25 percent. SoFi said in July that it pays its alumni funders a 5 percent return; it no longer publishes its returns.
Like SoFi, CommonBond is starting out by lending to MBA candidates at such selective schools as Harvard, Northwestern and Stanford—all of which had student loan default rates of less than 1.5 percent in 2009. Klein expects CommonBond to make $50 million to $100 million in loans next year and plans to be at 20 schools, including UC-Berkeley's Haas School of Business, NYU's Stern School of Business and Chicago's Booth School of Business, by the end of 2013.
"I could very easily see us expanding to law schools on the way," he says, noting that the company is also looking at other low-risk default groups, such as graduate engineering and medical students.
Klein worked as a director of business planning and strategy at AmericanExpress before enrolling at Wharton and founding CommonBond. He says his role at AmEx taught him the economics of the credit business, the dynamics of rates, and the importance of understanding losses on a credit portfolio. He also thinks mainstream lenders are watching the alumni-sourced loan market to see where it goes.
SoFi may offer a glimpse of that future: The company has made $130 million in loans this year, including loans to undergrads, and is at 79 schools, including smaller institutions such as Smith and Swarthmore.
As Klein says, "demand in this market is incredibly high."
Join the discussion on the Bloomberg Businessweek Business School Forum, visit us on Facebook, and follow @BWbschools on Twitter.