Pawlenty: Republicans Put in a 'Corner' Can't Resolve Fiscal Cliff
By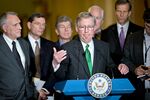 If you want to know just how boxed in Republicans are feeling during the fiscal cliff negotiations in Congress, listen to Tim Pawlenty.
At a panel in Washington this morning, the former Minnesota governor, Republican presidential candidate, and chief executive of the Financial Services Roundtable summed up the predicament of House lawmakers in his party in an unusually candid way. "You can't corner people so totally and so badly that they have no way out," Pawlenty warned.
That strong admission that the White House has the upper hand comes on the heels of more evidence of it. My Bloomberg News colleague Heidi Przybyla reports today that 40 Republican "defectors" have joined Democrats to call for a bipartisan deal that could include tax increases. On a tactical level, these lawmakers don't see a way to break through the narrative the White House has been feeding the public ever since the election: If the U.S. sails off the so-called cliff, it's because Republicans held the middle class hostage so the wealthiest 2 percent could retain their lower rate.
Democrats simply won't come to the negotiating table unless Republicans agree to let taxes rise on the highest earners. That strategy—Senator Bob Corker (R-Tenn.) referred to it at the panel this morning as the president's "one trick pony"—is apparently working.
With 192 Democrats in the House, Boehner would technically need only 26 Republican votes to pass a tax increase. But that would require breaking what's become known as the Hastert Rule. The tactic, named for former House Speaker Dennis Hastert, means that the speaker won't bring a bill to the floor unless it has the support of more than half his caucus. Even with this latest crop of defectors, Boehner is unlikely to get that. So he has an increasingly stark choice: Break ranks with the majority of his party and avert the cliff, or dig in his heels and face public ire.
At the panel, sponsored by Bloomberg Government, Pawlenty implored Obama to give Republicans "some face-saving way out of the corner." That likely means devising a package of cuts to benefits programs that Boehner can rally his caucus around before Dec. 31. Representative Mike Simpson of Idaho, a leader of the defector group, wants a Medicare overhaul in exchange for his vote for a tax hike on the wealthy.
Given how difficult it would be for Washington to come up with something as ambitious as a Medicare overhaul before the end of the year, it's still a very steep demand—but one that brings the parties a mite closer to a deal.
Before it's here, it's on the Bloomberg Terminal.
LEARN MORE