Paris Is for Early Birds Under New Lighting Plan
By and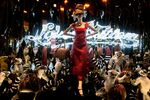 The City of Light is getting darker. After banning overnight illumination of museums, churches, and even the Eiffel Tower, the French government now wants Parisian shops and public buildings to turn off their lights from 1 a.m. to 7 a.m. The proposal by Environment and Energy Minister Delphine Batho could take effect by next July.
Batho says the move is intended to save energy, cut costs, and show "sobriety." Paris merchants, though, worry it will dim the city's attractiveness to visitors. Compared with other European capitals such as London and Berlin, "We're becoming a museum, falling asleep after sunset," says Claude Boulle, head of the City Centre Merchants association.
France is the world's most visited country, with 81.4 million foreign tourists in 2011, including 8.5 million who spent at least one night in a Paris hotel, according to government figures. Tourist brochures rhapsodize about late-night strolls on its bridges and picturesque winding streets. On the Champs-Élysées and shopping streets such as Avenue Montaigne and Boulevard Haussmann, many retailers keep their window displays illuminated overnight, even though most close before 9 p.m. "Lights from public buildings are part of public lighting, and it brings security," Boulle says.
The lights-out campaign started under former President Nicolas Sarkozy and is part of a broader European plan to improve energy efficiency 20 percent by 2020. The Eiffel Tower now goes dark at 1 a.m., and since last July, businesses have had to turn off all neon lights from 1 a.m. to 6 a.m.
Socialist President François Hollande's government says it wants to go further. "One of our main objectives is to change the culture," Environment Minister Batho said in a Nov. 29 interview on BFM Television and RMC Radio. "We need to end the cycle of producing more because we are consuming more." The proposed ban on all-night lighting would apply to cities and towns nationwide.
An environmental group that helped draft the plan says the energy saved each night will equal the output of a 1,300-megawatt nuclear reactor during an equivalent period. "There is no intention to put us all into darkness or frighten Japanese tourists," says Alain Fleury, a leader of the Association to Protect the Sky and the Night Environment. "We can find a balanced way to consume and not always push for more."
Locals and tourists alike seem to take the idea in stride. "It's perfectly normal. We need to save energy," says Parisian Caroline Rottée, who had taken her two children to look at Christmas window displays at the Printemps department store.
The store displays, featuring marionettes dressed in Christian Dior couture gowns under a canopy of twinkling lights, are kept illuminated all night during the holidays. What if they went dark after 1 a.m.? "It wouldn't bother me," says Italian tourist Gregorio Grasso, who was coming out of Printemps. "There is still a lot to see in Paris."