No Sleep Till Christmas: Etsy Sellers' Haggard Holidays
by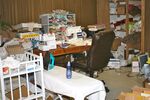 To keep up with orders on the world's largest marketplace of handmade stuff, Kelly Engel starts sewing shortly after her four-month-old son wakes up at 4 a.m., and works until her husband, a school counselor, leaves at 7:30 a.m. She squeezes in a couple of hours while her two boys (her oldest is two and a half) nap in the afternoon. In the evenings, Engel returns to the sewing table until midnight, making the organic cotton baby shoes and clothes she sells through her Etsy store, Growing Up Wild.
Etsy sales between Black Friday and Cyber Monday jumped 80 percent from the same days last year, and nearly a third of orders came from first-time buyers, says Adam Brown, spokesman for the site. That Monday, Etsy had more transactions than on any other day in its seven-year history. This week the company is running a pop-up storefront in New York's SoHo shopping district. Etsy's growing reach means its 800,000-plus sellers are forgoing sleep as they race to meet demand, stitch by stitch.
"Let me pull up my stats here, because it's been a blur," Engel says during a naptime interview from her home and workshop in Boise, Idaho. She's getting eight to 10 orders a day, triple the volume she had a month ago. "When there's eight selling a day, that would be about 16 hours" of sewing, Engel says. "It's not sustainable for more than this holiday rush."
Engel's basement houses 20 bolts of fabric (each bolt is 15 yards). She sells 130 different individual items and gift sets—booties, onesies, blankets, tiny T-shirts—from patterns she designs herself, at prices roughly from $20 to $50. The variety of styles and sizes makes it difficult for her to anticipate what will sell and to stock up. "I would like to say I had used October to build up inventory," she says, "but that would be a lie."
It's a common dilemma for Etsy sellers working from home, says Tim Adam, who runs the Handmadeology blog and began selling metal furniture and jewelry on Etsy five years ago. "I don't want to have my house filled with metal furniture," he says. Dennis Anderson, who makes soap out of his kitchen in Portland, Ore., and has made made more than 46,000 sales in five years on Etsy, says he worked 36 hours straight to fill Black Friday orders.
About one-third of Engel's sales are to Australia ("they're very into organic," she says), and she has a handful of retailers she supplies there and in Japan, California, and Idaho. The former teacher started selling almost two years ago, when friends and acquaintances inquired about the clothes she made for her own baby. Last year, in the middle of moving and with another child on the way, she closed shop for the holidays.
This season, Engel has felt the effects of burning the candle at both ends. She recently locked herself out of her car. "My brain is a little frazzled and I don't talk to adults very often, currently," she says, joking to an interviewer that some answers might not make sense. (They did.)
Despite the long hours, Engel says she hopes the steady business will continue. The Etsy sales are helping to pay hospital bills, for the birth of her second child, that weren't covered by insurance. "I'd rather be losing sleep because I'm working than losing sleep worrying about whether we can pay our mortgage," she says.
Before it's here, it's on the Bloomberg Terminal.
LEARN MORE