How a Cop and a Not-Homeless Guy Got Skechers in the News
By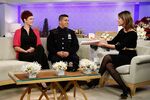 It was the good deed heard round the world (or, well, at least round Facebook). Last week, boyish-faced New York City police officer Larry DePrimo—who still lives at home with his parents—was so saddened by the sight of a homeless man shivering, barefoot, in the cold of Times Square that he ducked into a nearby Skechers store to buy him a pair of boots.
After Jennifer Foster, a tourist, recorded the incident, which found its way to the NYPD's official Facebook page, it went viral. Soon, DePrimo was taking calls from the mayor and surfing the morning talk-show couches. In an unfortunate development, the New York Times tracked down the homeless man, named Jeffrey Hillman, to discover that he's barefoot again—and apparently by choice. And according to the New York Daily News, he's not actually homeless.
We contacted the shoemaker Skechers to see how it has reacted to being unwittingly associated with DePrimo's act of selflessness. "We had no idea the kind gesture of Officer DePrimo and our retail employee would become front-page news," said Michael Greenberg, president of Skechers, through a company spokesperson. But Greenberg emphasized that he's "thrilled" by the attention and went on to announce that the company, which generated $1.6 billion in revenue last year, will be paying it forward: "We feel so strongly about this that in honor of Officer DePrimo, we are working with the mayor's office to donate 50 pairs of insulated boots to a homeless shelter in New York."
In terms of sales, has the shoemaker experienced a DePrimo bump? "Clearly the intention of this was not to generate sales," said Greenberg, "but good press builds awareness and can have a positive impact. People are even coming in asking to see the boot or to talk about the story."
Before it's here, it's on the Bloomberg Terminal.
LEARN MORE