Amazon's Holiday Run Helps Put UPS in Prime Position
by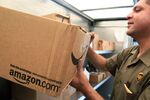 Yeah, I'll admit it: Not only do I read the Economist, I look forward to my weekly copy. It makes me look and feel smart, all that erudition and high-concept cheek, and no one writes a better obit. I imagine a bunch of Economist editors who look like Alistair Cooke teaching me SAT-busting words like "corpulent" and "eldritch." I regret the gang feud between our magazines.
This week, the Economist crew ran a brilliant cover on the great tech wars of 2012. One doozy of an observation:
Rather than try to replicate [Amazon's] extensive network of warehouses, Google is looking for partnerships with shipping companies and retailers instead. But if it is serious about taking on Amazon, it may ultimately have to buy a logistics firm. At $69 billion UPS has a market value less than a third of Google's; it is valued at less than twice the search giant's cash pile.
Google buying UPS may sound ridiculous, but I got to thinking about the shipper's cyberstrategic import the other day when I was returning two Amazon packages at the UPS Store. I waited in line behind a woman with multiple Zappos (Amazon) returns, and encountered UPS again that night when I went all Amazon Prime on orthotics and a new camera. And some mail-order Indian food for my brother. Shipping fees need not apply in this brave new world, where UPS gets paid on both ends, and solidly more next year than now.
I'm not an isolated example. According to ChannelAdvisor, in the five days from Thanksgiving through Cyber Monday, client sales on Amazon jumped 38 percent from a year earlier. Amazon played Cyber Monday like a 14th century cello, offering deals that leave brick-and-mortar stores struggling to compete. And if two-day UPS is now the Amazon Prime industry standard, local express delivery is its next big one.
Now, ponder the statistical impossibility of the U.S. Postal Service, which just registered a $15.9 billion annual loss and is begging to ditch Saturday delivery, provisioning same-day service. Tip your mailman well this Christmas, because the Postal Service is on track to have less than a four-day supply of cash on hand by the end of the fiscal year, one that is all but certain to see more post offices close.
That means opportunity, and pricing power, for UPS and FedEx. "They are the modern-day equivalents of the pick-and-shovel sellers to the old California gold rush," says Paul Price, a former Merrill Lynch and A.G. Edwards broker who now manages his own money. "They win regardless of which Internet-related retailer makes the sale." One UPS store manager I spoke with (off the record, per company policy) said customers have been asking him left and right about Saturday pricing.
Price says that UPS now trades at its second-lowest valuation in two decades, and with one of the highest current dividend yields ever. Since the start of the current bull market three and a half years ago, UPS, a true cyclical, has lagged the Standard & Poor's 500-stock index's total return by a hefty 12 percentage points. Price thinks UPS is primed to rally 25 percent to 30 percent in the year ahead.
Before it's here, it's on the Bloomberg Terminal.
LEARN MORE