Why Few Sandy Victims Are Tapping Government Loans
By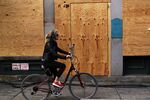 Is there a federal agency that businesses affected by Hurricane Sandy can tap for inexpensive loans? That's a question that surfaces after every major disaster. The answer hasn't changed: the Small Business Administration, which has lent billions since Katrina through its direct lending programs for disaster victims.
This time around, 30-year, 4 percent loans up to $2 million are available to business owners in federally declared disaster areas in New York, New Jersey, Connecticut, and Rhode Island. They are available to owners whose property was damaged, as well as those whose property wasn't. Trouble is, few are applying.
As of Nov. 30, the SBA had approved just 73 business disaster loans, for a middling $6.2 million in total. That figure doesn't include the more than $83 million in loans the SBA has approved for its separate disaster loan programs for homeowners and renters, whose primary residences and personal property were damaged in the storm. Unlike the SBA's better-known loan guarantee program, in which the agency backs small business loans obtained through commercial lenders, disaster loans are made directly by the government.
SBA spokeswoman Kathy Cook attributes the tepid response to business owners misunderstanding how the application process works. Some think they have to have insurance in order to apply for an SBA loan, and others think they must wait until they get insurance settlements before they can apply. Neither is true.
Free help from the agency is available for loan applicants whose important financial and property records were lost in the storm, Cook says. Applications can be submitted online or in person at a disaster recovery center. Information is available by e-mailing disastercustomerservice@sba.gov or calling 1-800-659-2955.
In an earlier story about its disaster lending, the SBA said it was staffing up to handle a surge of applications from the storm and vowed to keep processing times to no more than two weeks. The story also pointed business owners who need help preparing financial statements to accompany their applications to free assistance from local Small Business Development Centers, Women's Business Centers, and Score offices.
The SBA isn't the only source of low-interest disaster loans for businesses affected by Sandy: The New York State Emergency Small Business Loan Program is offering loans up to $25,000 for New York businesses with fewer than 100 employees in designated disaster areas. The loans are interest- and payment-free for the first six months and then will have 1 percent interest for two years.  Nonprofit micro-lenders in New York and New Jersey have also established disaster loan programs aimed at small businesses.
Accion East & Online, a micro-lender based in Manhattan, has disbursed four loans and has 30 applications pending. A total of $833,000, which has been donated by corporations and individuals, will be used to fund loans and grants for the Sandy Recovery Business Loan program, says Alejandra Boggiano, the organization's communications manager. It will make loans from $1,000 to $25,000 and add 15 percent extra in grants to each business that qualifies.
Accion is targeting entrepreneurs who don't qualify for traditional lending from banks because of low credit scores or a short credit history. The loans will carry zero interest and no payments for the first three months; the interest rate of 4.99 percent will stretch over 48 months, with no prepayment penalty. The group is charging a $30 application fee and offering free financial education along with the loans.
A New Brunswick (N.J.)-based nonprofit called New Jersey Community Capital last week created a fund called Rebuild New Jersey to make loans to small businesses in Jersey City, Newark, and Asbury Park. Once it starts making loans, they will be at 3 percent interest, range from $10,000 to $30,000, and last for two years.
Another nonprofit micro-lender, the Intersect Fund, also in New Brunswick, has approved 19 disaster recovery business loans and received about 100 applications, says Rohan Mathew, executive director of the nonprofit micro-lender. It's offering 36-month loans at 5 percent interest, with reduced payments for six months. Most loan recipients will pay about $50 a month initially and then as much as $200 a month, Mathew estimates.
Between 30 percent and 40 percent of the total applications the Intersect Fund received were declined immediately because the businesses had tax liens, were in foreclosure, or had civil judgments pending against them, Mathew says. Four loan officers and underwriters are working on the backlog and have been processing them within about three days, he says.
Mathew's staff is traveling to the damaged businesses to meet with applicants and help them fill out the loan forms. Like Accion, the Intersect Fund does not rely on tax returns alone to determine creditworthiness. "A lot of business income is not reported on tax returns, unfortunately, so we are finding other ways to establish business income, including bank statements, cash register tapes, and boxes of receipts. If the company has enough revenue to afford repayment, we can give them a loan," he says.
Octavio Hoyos, who started Saniall, a four-employee commercial cleaning company in Howard Beach, N.Y., 18 months ago, got $15,000 from Accion East & Online. He used the money to purchase a company car and replace lost equipment and supplies. Hoyos lost two personal cars and a company van filled with vacuums and cleaning materials when the storm hit. He estimates that he's also lost about 15 percent of his customers, some permanently.
"We had a couple of clients flooded and some that shut down completely. We were closed for about a week and had to issue credits to our customers for that time," says Hoyos, who was born in Ecuador and grew up in Queens. "For a huge company, losing some floor machines is not much, but for someone small who's starting up, it's a big loss."
Before it's here, it's on the Bloomberg Terminal.
LEARN MORE