When Market Research Is Talkin' Loud and Sayin' Nothin'
by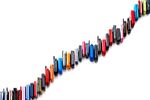 According to a report released today from Kantar Worldpanel ComTech (apparently a division of UniWeb Digicyber Softlutions), Apple's iPhone was the best-selling smartphone in the U.S. for the 12-week period ended Oct. 28th.
Kantar's data shows that iOS smartphones (remember, Apple sells the iPhone 5, but also the 4S and 4 models at a discount) command 48.1 percent of the market. That's up 25.7 percent from the same period last year. Android phones aren't far behind, at 46.7 percent of the market, down 16.6 percent from last year's numbers.
Meanwhile, Android continues to rock out internationally. According to IDC, the OS has 75 percent of the global market, compared with Apple's much smaller 14.9 percent share.
Not that market share has anything to do with profits. Apple may not sell the most handsets worldwide, but it does take in the bulk of the industry's profits—to the tune of 77 percent in the mobile industry in the second quarter of 2012, according to Raymond James analyst Tavis McCourt.
But this doesn't seem to be having a salutary effect on Apple's stock price. Apple's stock reached a high on Sept. 19 at 702.10 and, despite the good news of today's report, is currently trading around 575 at the time this post was written.
So, to recap: Apple's selling slightly better than Android in the U.S. But not as well as Android internationally. But Apple rakes in way more profit. But its stock is down.
Sometimes the tech-research industrial complex reminds me of a James Brown song: Talkin' loud and sayin' nothing.
Before it's here, it's on the Bloomberg Terminal.
LEARN MORE