The Foreign Authors China Loves
Christina Larson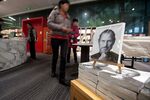 Last week, People's Daily, the straight-laced mouthpiece of the Chinese Communist Party, failed to recognize that The Onion is an American satirical website—and republished and embellished content meant as a joke: "North Korea's Top Leader Named The Onion's Sexiest Man Alive for 2012," read the Nov. 27 headline before the editors realized their mistake and took down the 55-slide photo essay of Kim Jong Un on horseback and in other suitably macho poses. One takeaway from the humorous saga: Irony doesn't translate.
But other content produced outside the Great Firewall is finding an enthusiastic audience within China, and one way of taking the pulse of Chinese readers is a glance at which foreign authors are earning the highest royalty payments for their works on the mainland. The Chinese journalist and literary lover Wu Huaiyao compiles such a list each year. On Friday, his results for the top-selling overseas authors in China from November 2011 to November 2012 were released in the Huaxi Metropolitan Daily.
In first place: J.K. Rowling, British author of the blockbuster Harry Potter series, whose royalty payments for the past year in China totaled $2.41 million. Rowling also topped the list in 2010. Her new adult novel, Casual Vacancy, has met mixed critical reception in the West but is a hit in China.
Slipping into second, perhaps more unexpectedly, was Nobel Prize-winning Columbian novelist Gabriel García Márquez. The first authorized translation into Mandarin of his One Hundred Years of Solitude was published last year. In both literary and genre fiction, the style of magical realism resonates in China. His works netted $964,800 in royalties.
Third place went to American Walter Isaacson, primarily due to the runaway popularity of his iconic biography, Steve Jobs, in a country that idolizes but hasn't yet proven fertile soil for Jobsian levels of technology innovation, entrepreneurship, and creativity. (Not counting the ancient inventions of the compass, gunpowder, paper, and printing, that is.) Isaacson earned $804,000.
The other names rounding out the top 10 list included four Japanese authors, two European children's book authors (from France and Austria), and American Dan Brown, author of The Da Vinci Code and other thrillers.
Alice Xin Liu, who was born in China and attended college in the U.K., is now managing editor of Pathlight, a Beijing-based journal of translated literary Chinese fiction. As someone long straddling literary cultures, she offered a few thoughts on this year's list:
On Harry Potter: "Certainly individuality resonates [in modern China], as does a boy who has the whole world against him."
On Gabriel García Márquez: "Mo Yan's generation was inspired by Márquez [Mo is a 57-year-old Chinese novelist]. When Mo was awarded the Nobel Prize, the [selection] committee said the complexity of his writing was reminiscent of Márquez. He, along with Milan Kundera, are the two names that always pop up when you listen to Chinese readers talk about foreign writers. After the opening up and reform began, Márquez in particular made a huge impact on an emerging generation of writers and their writing, and such novels as One Hundred Years of Solitude and [Kundera's] The Unbearable Lightness of Being are still considered seminal works here (arguably more so than they are in the West)."
On Steve Jobs: "I think innovation, and maybe China's fascination with personalities, have something to do with it. … Jobs is up there in the technology elite, and Chinese people worship the elite of any industry."
Before it's here, it's on the Bloomberg Terminal.
LEARN MORE