Meet the First Royal Baby Profiteers
by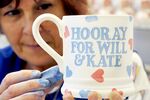 Yesterday, St. James's Palace announced that the Duke and Duchess of Windsor are expecting their first child. Just as the royal wedding produced heaps of Will and Kate-themed tchotchkes, news of the couple's forthcoming member of the family—who will officially be the third in line for the throne—is sure to inspire its own mountain of merchandise. So who is the first to put something royal baby-themed on the market?
As far as we can tell, it's the pottery firm Emma Bridgewater, located in Stoke-on-Trent, which is already producing blue, red, and white mugs emblazoned with the words: "A royal baby in 2013."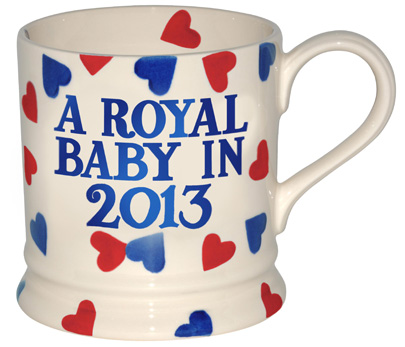 The company told the BBC it sold millions of dollars worth of goods for the Queen's Diamond Jubilee and the royal wedding and expects the babywares to be an equally big hit, even across the pond. "It's also apparent from the media coverage over the last 24 hours that the American market will be strong too, so we're hoping this will help us move more sales into the United States," head of manufacturing Mark Thomas said to the BBC. Emma Bridgewater will make another design with the baby's name when it is born.
Before it's here, it's on the Bloomberg Terminal.
LEARN MORE