Getting Employees Back to Work
Verne Kopytoff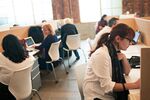 If a disaster flattens Cisco Systems' headquarters in San Jose, Calif., the company's emergency response team can still do its job. Safety officials, who normally monitor crises from a war room on campus, can instead work from a minibus equipped with video phones, television screens, and a satellite dish.
Cisco's mobile emergency command center is an extreme example of how companies strive to operate amid major disruptions. In this case, the job involves protecting employees in a region where earthquakes are common. "I'm paid to be paranoid," says David Walters, director of global safety and security for the computer networking company. "I'm a professional worrier."
For most companies, staying productive is no more complicated than having employees work from home. Telecommuting is the most common strategy for maintaining operations during difficult times—81 percent of companies enable employees to work remotely as part of their emergency plans, according to a survey last year of 300 executives by the Disaster Recovery Journal, an industry publication, and Forrester Research, the technology consulting firm.
Internet and phone connections, however—both landline and mobile—may be unavailable in disasters. Satellite phones, which connect to orbiting satellites rather than earth-based infrastructure, are an alternative (although an expensive one). The phones are relatively reliable and widely used in remote locations where no other phone service is available.
Cisco's mobile command center takes the idea of staying in touch far beyond what most companies have. The minibus is essentially a situation room on wheels. Normally the company's incident response team coordinates emergencies in a huge conference room plastered with video screens. The minivan gives them access to almost as much technology, albeit in more cramped conditions, wherever they want to park it.
Inside, emergency staff can monitor the news from video screens, make conference calls, and work from laptops. A satellite dish on the roof provides telephone and Internet service. A video camera on a retractable boom can be used to check conditions outside.
On a recent day, the minibus, which is teal-colored and looks like a television truck, sat in the parking lot in the rain. The campus of 26,000 employees was calm, as it usually is. Walters had his eye on other places where Cisco has employees. "I wake up in Morgan Hill, Calif., but I'm in Argentina today, or I'm in Cairo today," he says. "You've really got to be thinking globally."
During Hurricane Sandy, Hearst Magazines, which publishes such titles as Marie Claire, Esquire and Car & Driver, stayed open for business at its New York headquarters. There was no power outage or flooding in its building, unlike elsewhere in the city.
But John Loughlin, general manager for Hearst Magazines, says eight to 10 magazines were due to go to press in the week or two after the storm, and with subway and bus service suspended, some key employees had no way to get to the office.
As a remedy, Hearst set up a free shuttle service to and from Brooklyn, where many of them lived. "I must say, it worked in a very straightforward way," says Loughlin. "This isn't heart surgery." The magazines were published on schedule.
In case of a more substantial disruption, Hearst Corporation, the magazine division's parent company, has an emergency backup office in Westchester County, N.Y., about a 40-minute train ride from Manhattan. The office has enough desks and computers for around 150 people.
Fitch Ratings, a financial rating company in which Hearst is a major investor, temporarily relocated to the Westchester office after its headquarters in Manhattan flooded during Sandy. The company has since moved back home, and the office now sits empty, at least until the next storm.
Before it's here, it's on the Bloomberg Terminal.
LEARN MORE