New York Stock Exchange Pads Its Lead Over Nasdaq
Infosys is the latest company to switch between the rival exchanges
by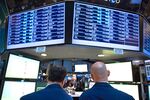 NYSE Euronext, the parent company of the New York Stock Exchange, announced Friday that Indian technology giant Infosys would switch to its exchange from Nasdaq, calling it the 13th company to do so this year.
These headlines flash often, as the world's two largest exchanges battle to snatch listings from each other. Each ticker won means additional revenue and a loftier reputation, good for attracting yet more listings and, especially, initial public offerings.
Nasdaq suffered this year's most embarrassing exchange-related setback, when Facebook's first day of trading suffered from technical problems. That incident bred rumors that Facebook would switch exchanges, but the tech giant has yet to move.
Here are the companies that moved from Nasdaq to NYSE Euronext in 2012, and their market cap as of Dec. 3:
Teva Pharmaceutical Industries, $35 billion
Infosys, $25 billion
TD Ameritrade Holding, $9 billion
On Assignment, $1 billion
Halcon Resources, $1 billion
Kaman, $950 million
Team Inc., $721 million
Berkshire Hills Bancorp, $570 million
Hercules Technology Growth Capital, $568 million
U.S. Physical Therapy, $320 million
KMG Chemicals, $209 million
Homeowners Choice, $199 million
Arabian American Development, $193 million
 
And here are the moves in the other direction, from NYSE Euronext to Nasdaq:
Kraft Foods Group, which split into two listings, Kraft, $27 billion, and Mondelez International, $46 billion
Texas Instruments, $33 billion
Analog Devices, $12 billion
Western Digital Corp., $8 billion
Antares Pharma, $500 million
Five Calamos Investments funds
 
NYSE Euronext, already the larger of the two exchanges, has the recent edge. Both parties, however, take issue with some of these listings. NYSE Euronext doesn't think the Calamos fund switches should count, as their parent company had already been listed on the rival exchange. Nasdaq notes that it had a strong December 2011, with the addition of major tickers including Viacom, Wendy's, and Sallie Mae.
Before it's here, it's on the Bloomberg Terminal.
LEARN MORE