Delta Might Use Virgin to Become a Player in London
by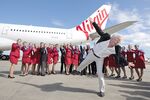 Wall Street is leery of airlines, but there's one big investor that seems to love them: Delta Air Lines.
Delta, an aggressive innovator that kicked off U.S. airline consolidation four years ago, is discussing acquiring a stake in Virgin Atlantic that Singapore Airlines purchased for nearly $1 billion in 1999, according to news reports. Ownership in Virgin Atlantic would bolster Delta's bid for the New York market and help it expand at London Heathrow, one of the most congested—and lucrative—airports in the world.
On Monday, Singapore spokesman James Boyd said the company is talking with "interested parties" about selling its 49 percent stake in the airline founded by entrepreneur Richard Branson, who owns the rest. "Those discussions may or may not result in a transaction," Boyd said, declining further comment. A Delta spokeswoman said in an e-mail the company does not comment on "industry rumor."
For Delta, the Virgin Atlantic stake would provide immediate benefits: a new member for its SkyTeam alliance with Air France-KLM that comes with a passel of landing slots at Heathrow. That would allow Delta greater access to the London market and give Virgin Atlantic more access in the U.S. Joining Virgin Atlantic to SkyTeam also would give Branson a way to respond to enormous competitive changes in the London market that have left his flagship carrier an also-ran.
Virgin Atlantic doesn't fit with either of the other two global alliances, the Star Alliance, led by United Continental and Lufthansa, or Oneworld, which is controlled by British Airways and American. Star has been bolstered by United's five daily nonstop flights from Newark and three from Washington, plus Lufthansa's numerous flights to Frankfurt and Zurich, the other European banking capitals.
The rival alliances have left Delta service wanting between the U.S. and U.K. financial capitals, with only three New York-London nonstops and one from Boston. (Delta also has no morning departure to London, an option rivals offer.) "They really do not have a strong presence in the North Atlantic to London, and it's probably the most profitable, most traveled route out there," says Helane Becker, an airline analyst with Dahlman Rose in New York.
Delta has also made a large play for New York over the past year, acquiring terminal space and slots at LaGuardia airport from US Airways and investing more than $1 billion in renovations to its space at John F. Kennedy Airport. At LaGuardia, Delta hopes to become the dominant carrier and launch a new domestic "hub" from the airport, while it hopes to expand its appeal on international routes by upgrading its facilities at JFK.
With its balance sheet in relatively strong shape, Delta has become an airline investor, taking a $100 million stake in Brazil's GOL and a smaller share of Aeromexico, a fellow SkyTeam member. Becker says Delta's ability to smooth out the seasonal financial dips in its business will be critical expertise Delta could bring to Virgin Atlantic. "One thing Delta knows how to do is operate profitably on international markets," she says. "I think they would help show Virgin Atlantic how to adjust capacity on the North Atlantic."
Virgin's business, based solely around its access at Heathrow, has suffered in recent years as rival British Airways acquired Iberia and short-haul U.K. carrier BMI, the latter airline once a key part of domestic feed traffic for Virgin's international flights. And since British Airways and Oneworld Alliance partner American received regulatory approval to coordinate their schedules, those airlines have been able to build what they call a virtual shuttle service between New York and London for corporate travelers: near-hourly departures.
Singapore's interest in divesting its share of the company has been suspected around the industry for some time, although most airlines have been operating in crisis mode for much of the past decade, from pandemic scares, to the financial crisis of 2008, to spiking fuel costs. In a May 2012 interview with Bloomberg Businessweek, Virgin Atlantic Chief Executive Steve Ridgway speculated that Singapore could sell the stake, although he was skeptical the airline would be able to garner a price it found acceptable. Virgin Atlantic lost $128 million in the fiscal year ended February, and its tight financial spot as a wallflower among the trio of airline alliances has become increasingly apparent.
A Delta foray into a European airline would also fit with a spirit of operating innovations under CEO Richard Anderson. In April, Delta spent $150 million to buy a shuttered Pennsylvania oil refinery to make its own jet fuel. The next month it agreed to lease 88 Boeing 717 jets from rival Southwest for shorter domestic routes to replace even older airplanes it still flies. Delta "won't buy anything that won't align favorably with its very successful business model—it doesn't have to," Gimme Credit bond analyst Vicki Bryan wrote Monday in an e-mail.
Before it's here, it's on the Bloomberg Terminal.
LEARN MORE