Why Duke CEO Jim Rogers Should Be Obama's Energy Secretary
Paul M. Barrett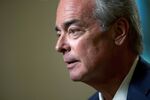 In the middle of Superstorm Sandy, we provoked a little storm of our own with a cover story entitled, "It's Global Warming, Stupid."
We suggested, perhaps not quite as politely as we might have, that it is past time to take climate change seriously and get the debate restarted on a national level. Toward that end, here is a constructive suggestion for President Barack Obama: Nominate soon-to-be-available power guru Jim Rogers to be your second-term Secretary of Energy. It is widely assumed that Obama's current energy chief, Steven Chu, will step down, along with many other members of the cabinet.
The most dynamic executive in his industry, Rogers, the chief executive of Charlotte-based Duke Energy, has spent a career building ever-bigger utilities. He knows coal, gas, nuclear, solar, wind. He's done all of them. And he recognizes the need to forge a national energy policy that sharply reduces carbon emissions that contribute to global warming and the extreme weather it is increasingly visiting upon our little planet. In the past, Rogers has backed cap-and-trade legislation, facing down industry rivals who tried to isolate him as a pariah. He would be the perfect architect of and spokesman for a new, outside-the-box approach to reducing carbon. And would Republicans really oppose the appointment of an energy industry CEO?
Rogers is available for a turn at public service because of a baroque corporate boardroom power struggle last summer, which we chronicled here. The upshot of that fight—during which Rogers gave up his CEO job as part of Duke's acquisition of rival Progress Energy, only to be reinstalled by legacy Duke directors—is that Rogers has just agreed (again) to step down, by the end of 2013, to mollify state regulators who were irritated by the earlier C-suite switcheroo.
So Rogers is available. Obama needs a strong voice on global warming and, more broadly, national energy policy. The Duke CEO could speed up his departure from the corporate realm and move from Charlotte to Washington in time to get a fresh start just after Obama gets sworn in for a second go-round. We've got word in to Rogers to see if he's interested and will report back as soon as we hear.
(Update: A spokesman for Rogers got back to me to say that the Duke CEO "has said he has no interest in being Energy Secretary." But that's what potential cabinet members always say. It's difficult to imagine that if Obama told Rogers his country needed him, the not-shy power executive would say no.)
Before it's here, it's on the Bloomberg Terminal.
LEARN MORE