The MBA Holiday Gift Guide
Francesca Di Meglio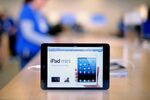 Coming up with the perfect holiday gift for MBA students can be hard because they often seem to have everything. If you're playing Santa for an aspiring B-schooler, these gift ideas, broken down by category and come from students, professors, and administrators at top business schools, should help.
Technology
Forget those visions of sugarplums. Most MBAs have iPad minis, Nexus 10 tablets, the Microsoft Arc Touch, or Kindle Fire HDs, dancing in their heads. Accessories for these devices also make for great gifts. The iPad keyboard Zaggfolio is on top of University of Virginia's Darden School of Business Associate Professor Kristin Behfar's list. Marisa Rosenthal, a student at New York University's Stern School of Business, encourages people to buy an iPhone case through Bonobos to benefit charity:water, a nonprofit that provides clean drinking water to those in developing nations. And Laura Stephenson, a second-year MBA at the University of Michigan's Ross School of Business, suggests Isotoner smarTouch gloves. "You can use your smartphone and keep your hands warm during long Michigan winters," she writes in an e-mail.
A few people recommended the Livescribe 4GB Echo Smartpen, a device that allows you to store everything you write or hear in a meeting on your computer and retrieve it with the touch of a button. Another dream gift for MBAs, writes Evelyn Pierce, associate director of the Accelerate Leadership Center at Carnegie Mellon University's Tepper School of Business, is a wireless presenter, also known as a clicker, to use with PowerPoint on laptops.
Technology can serve practical purposes, too. Braxton Bragg, president of the Graduate Business Association at Columbia Business School, recommends Clocky, an alarm clock that jumps off the nightstand and rolls around the room, so that you have to catch it to silence it.
Travel
Whether jetting off for job interviews or later as executives expanding businesses, MBAs can always use travel-related gifts. Carla Vale, a 2013 MBA candidate at Tepper, wasn't the only one to put a durable carry-on bag on her list of gifts. Carolyn Griffin, a 2014 MBA candidate at Vanderbilt University's Owen Graduate School of Management, thinks her classmates would appreciate Southwest Airlines gift cards. And Ann J. Lee, a second-year student at University of Pennsylvania's Wharton School, recommends giving hotel points. One of the most popular gifts suggested for frequent travelers, however, was noise-canceling headphones.
Fashion
To impress a male MBA, one might get him a bow tie embroidered with his business school name or crest, suggests Tara M. Sconzo, a first-year student at Emory University's Goizueta Business School. For the the ladies, a pair of Cole Haan pumps with Nike Air technology would be well received, writes Goizueta student Marina Levtov, for when she has to run from interview to interview.
Rest and Relaxation
A popular product on the wish list of MBAs who want to sweat away their stress is the Nike Fuelband, which tracks daily activities to help set goals and become more active. Zoe Hillenmeyer, a student at Washington University's Olin School of Business, says a three-hour Four Seasons spa package would be an amazing gift. Or you can unwind by listening to Pitbull's new CD, which features Drinks for You, a song co-written by MIT Sloan School of Management student Monica Rustgi.
Stocking Stuffers and More
Business-card holders are the ideal stocking stuffer for aspiring MBAs. Books are another option, and Judy Olian, dean of UCLA's Anderson School of Management, recommends Wooden on Leadership: How to Create a Winning Organization (McGraw-Hill, 2005) by former UCLA Coach John Wooden and Steve Jamison. Tony Lolas, an Owen student, thinks his classmates could use caffeinated candy.
Last but not least, perhaps the most obvious holiday gift for an MBA student comes from a tweet by @MBAReich, who recommends doling out loan repayment advice.
Before it's here, it's on the Bloomberg Terminal.
LEARN MORE