The Economy's Improving? Tell Small Business
By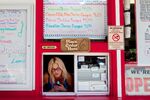 One survey following another shows that Americans feel better about the economy than they have since before the 2008 financial crisis. Plus the housing market appears to finally be recovering. All this should make small business owners who are coming off a rough couple of years feel pretty good, right?
Not so, according to a Gallup poll out Friday from Wells Fargo, showing the biggest drop in small business owners' confidence since the fall of 2008. The quarterly index, based on responses from 600 business owners, dropped 28 points as more businesses reported declining revenues, payrolls, and capital investment, both in the last 12 months and in their expectations for the year ahead.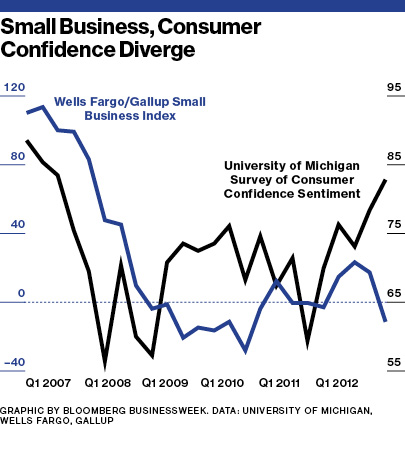 The results of the poll, conducted a week after the national election, may be dampened by the views of Mitt Romney supporters unhappy about his loss. (One business owner anonymously told a Las Vegas radio station that he had axed 22 workers after Obama's reelection.)
"It is very striking, the pessimism, the drop in people's future expectations," says Marc Bernstein, Wells Fargo's head of small business. "They were going in the right direction for much of the year." There's sometimes a gap between what business owners tell pollsters and the actual hiring and investment decisions they make. Bernstein says there's no sign of small businesses missing loan payments or defaulting at a higher rate in the San Francisco bank's loan book.
Washington's logjam over the the tax increases and spending cuts that will kick in on Jan. 1, unless Congress and the president reach a deficit-reduction deal, may be also be more salient to small business owners than to other Americans. "The fiscal cliff is, I think, kind of an abstract problem for most people, but it's more real for small business owners," says Michael Englund, chief economist of Action Economics in Boulder, Colo.
If the politicians reach a deal, small businesses may sound more upbeat in the next round of surveys. If not, Englund says, it could be a warning sign for the recovery. "It's small business that takes the big risks," he says, by starting companies, investing in expansion, and hiring new workers. "In order for us to grow fast, we need a lot of people to take big risks." That hasn't happened yet in this business cycle—and if the Wells Fargo/Gallup poll is any indicator, it's not about to start.