Copper, Copper, Copper
by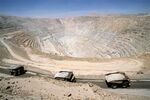 "The improvement in demand will probably be capped out by the ability of supply to keep up," said Andrew Shaw, the head of industrial-metal and bulk commodity research at Credit Suisse Group AG in Singapore. "We're probably past the trough but it's not very convincing."
—Glenys Sim, "Copper Shortage Seen Extending as China Accelerates: Commodities," Bloomberg News, Nov. 29, 2012
"… Of supply to keep up."
Read Glenys Sim's copper story, front-to-back.
Amid the Fiscal Cliffian, Grecian, Tiffany's, and no-NHL gloom, there are green shoots of optimism. Okay, how about Cryptomeria fortunei, or Chinese cedar … tallest tree in the Chinese "space." Some, 240 feet tall. That is a "green shoot."
I am more than certain that gloom prevails. I am almost more than certain that there are points and sets of points leading to Chairman Bernanke's plus-plus 2013.
Next year may be better than good. Forget about China, China, China. The whisper, this November, is Copper, Copper, Copper. Discuss.
Before it's here, it's on the Bloomberg Terminal.
LEARN MORE