Notre Dame Football and NBC: BFF Again
Paul Wachter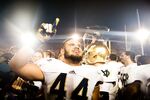 In 1990, NBC signed Notre Dame to an unprecedented $7.6 million-per-year contract for its home games. The New York Times noted that the university, which had 11 national championships to its name, "historically has attracted the largest television audience of any college football team." But for the past decade, the deal, which NBC dutifully reupped in 2008 and is now worth about $15 million per year for Notre Dame, faced an onslaught of criticism. The once-proud Irish stunk up the field, losing 10 of its last 12 bowl games. Ratings tanked. So it wasn't surprising that in the past couple of years, sports bloggers and business writers (including me) wrote scathing articles about the Irish's slide into football irrelevance and the indefensibility of its sweetheart television deal. How could NBCUniversal possibly extend the contract beyond its 2015 expiration date?
Then the Irish actually started winning. Notre Dame football, which is independent of any conference, stands undefeated this season and awaits the winner of Saturday's SEC championship game to play for the national title. Last week's game against the University of Southern California earned a 10.3 Nielsen overnight rating—the highest of any college football game this season. (Unfortunately for NBC, it wasn't a home game for the Irish and was broadcast by ABC; next year's rematch will be back at Notre Dame.) A Notre Dame vs. Alabama national championship likely would shatter viewing records. "In 1973, when those teams first played [in the Sugar Bowl], it was considered the matchup of the century," says Keith Dunnavant, author of The Fifty Year Seduction: How Television Manipulated College Football, from the Birth of the Modern NCAA to the Creation of the BCS.
Just a year ago, it was fair to ask whether the storied Notre Dame brand had petered out. For the 2011 regular season, Notre Dame games on NBC averaged a 1.6 final rating—lowest in the history of the deal. But this year, as Notre Dame started to rack up wins, more and more viewers tuned in. The Oct. 27 Notre Dame vs. Oklahoma game earned a 5.9 Nielsen overnight rating (again, it was an away game, so it was on ABC), at that point the highest rating of the college football season. That record was smashed four weeks later by the matchup between Notre Dame and USC.
"When Notre Dame football is relevant, it improves the entire college football landscape," says Dunnavant. "You saw that in 1969, when Notre Dame decided to again participate in bowl games"—following its 1924 appearance in the Rose Bowl, the university abstained from postseason play because of academic concerns—"and you're seeing that again now with this team's run."
Moreover, the program's good fortune should extend beyond this season, regardless of the outcome of the national title game. "I'll be surprised if [Notre Dame coach] Brian Kelly doesn't land a top-5 recruiting class going into next season," says Murray Sperber, author of Shake Down the Thunder: The Creation of Notre Dame Football. "It's unlikely they'll run the table again, but they'll be good."
To the chagrin of Fighting Irish-haters nationwide, Notre Dame is likely to renegotiate an extension to its contract with NBC, which is looking to rebuild its once-mighty sports division. The network no longer broadcasts professional baseball or basketball. Hockey is on strike. And the Olympics, NBC's multibillion-dollar investment, occurs only every two years. Last month the network signed a three-year, $250-million deal to broadcast England's Premier League games, beginning in 2013, which is quite an investment for games that this season drew 136,000 viewers, on average, on Fox. Considering that 14 million viewers tuned into the USC vs. Notre Dame game, NBC's $15 million per-year payment to the Irish looks like a steal—especially given that Notre Dame's other sports teams are set to join the ACC, and ESPN's new football contract with the ACC will deliver an average $17.1 million per year to each school. Why would Notre Dame accept less than that?