Charles Huang: Big-Screen Gaming From a Phone
Big-Screen Gaming From a Phone
by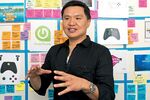 As the PlayStation, Wii, and Xbox lose market share to smartphones and tablets, video game developers face problems, too. Playing graphics-rich sports, shooter, and racing games on mobile touchscreens better equipped for Angry Birds can be deflating or nigh-impossible. Guitar Hero co-creator Charles Huang thinks he has the answer: supplement the mobile hardware with controllers that can better replicate the living-room gaming experience. "The opportunity for us," says Huang, 43, "is to leverage the install base of all those (mobile) devices but give people the type of games they want to play."
Huang's Santa Clara (Calif.) startup, Green Throttle Games, has developed an Android-compatible controller that connects wirelessly via Bluetooth to mobile gadgets, which then link to high-definition televisions. Huang says he expects to have about 20 titles, including some of his own, ready for the launch of the controller and its app, Arena, in the first quarter of 2013. Chris Scholz, the founder of Sausalito (Calif.)-based Free Range Games, is building a snowboarding simulation and a space-combat adventure for Arena. "You get that big-screen experience that's hard to capture on the phone," says Scholz.

While Huang enjoyed playing games growing up, he didn't expect to make a career out of it. Born in Taiwan, he moved with his family to New York at age eight and then to the Bay Area five years later. He studied economics and Asian studies at the University of California at Berkeley, then worked for his family's auto-parts business after graduating in 1992. Experience with tools came in handy when he and his younger brother, Kai, got the startup itch during the late-1990s tech boom. After their open-source server software company Adux failed, they started RedOctane in 1999 as a Netflix-like rental service for games. Although that flopped, too, they kept the name and moved into game-hardware development. The Huang brothers struck gold when they published Guitar Hero in partnership with Harmonix Music Systems. The Huangs accepted a $150 million buyout from Activision in 2006 and stayed aboard until the popularity of the series waned two years ago.
Green Throttle's controller will retail for between $40 and $50, Huang says, and by mid-2013 Arena will be compatible with Apple devices. Some games will be free to download; others may cost a few dollars. As with other apps, Google or Apple will keep 30 percent of the revenue. Huang says the company has secured its first round of venture financing, to be announced soon. Then comes the real challenge: getting users. The company has to compete with big-name brands in brick-and-mortar stores and with hundreds of thousands of rival apps. "It's not an insurmountable challenge, but it's a significant one that companies of every size in the gaming space have," says Scott Steinberg, head of strategic consulting firm TechSavvy Global. "You're competing for share of attention."
Before it's here, it's on the Bloomberg Terminal.
LEARN MORE