Hurricane Sandy Exposed Our Political Failure
Harold L. Sirkin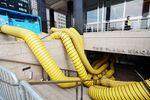 Even if I weren't a native New Yorker, I would have been moved by the destruction Hurricane Sandy caused when it converged with another large storm in the Northeast. Widespread power outages left millions in the dark; entire neighborhoods were reduced to rubble; the topography of the Jersey shore changed overnight; and a nearly 14-foot storm surge flooded lower Manhattan.
It took almost no time for the inevitable debate over the cause of superstorms like Sandy (global warming) or how to prepare for the next extreme weather event (build barricades) to begin.
Lost in these discussions, however, is a bigger truth: that at least some of our vulnerability is the result of political neglect, rather than Mother Nature. The construction, modernization, and maintenance of our infrastructure—highways, bridges, subways, rail beds, water systems, telecommunications networks, and electric grid—has not kept pace with our needs. And when these resources are stressed, they break.
There is nothing any of us can do, of course, to prevent strong winds from toppling tall trees and taking out power lines. And when two huge storms converge on the coast at high tide, there is little we can do to keep the storm surge from flooding low-lying areas. This will happen with or without climate change and rising seawater levels. A 13- to 14-foot storm surge will wash away sand dunes, spill over sea walls, and go where it wants to.
But we don't have to contribute to the destructiveness, as we have for years, by failing to invest in needed infrastructure. This is a political failure. Mother Nature is not to blame.
According to the most recent American Society of Civil Engineers' "Report Card for American Infrastructure," some 42 percent of New York's bridges were "structurally deficient or functionally obsolete" even before Sandy roared up the East Coast; in New Jersey, 36 percent. More than a third of New York's most critical dams—"high-hazard dams" whose failure could cause loss of life or major property damage—had no emergency action plans.
Pre-Sandy, New York had nearly $22 billion in wastewater infrastructure needs; New Jersey, more than $9 billion in unmet wastewater needs.
In New York, nearly half (46 percent) of the state's major roads were said to be in "poor or mediocre" condition. In New Jersey, more than three-fourths (78 percent) were considered run down—partly due, we can assume, from some $13 billion worth of deferred transportation maintenance that had accumulated prior to the storm. Imagine the price tag now.
As I've noted before, ASCE is an interest group; infrastructure projects generate revenue for civil engineers. So they will always see the need for more. But that doesn't change the fact, as anybody who has taken a taxi from LaGuardia to midtown knows, that New York has been falling apart for years. And many other major cities are in the same boat.
The time to fix things was yesterday. Waiting until disaster strikes only makes the job tougher—and more costly.
Before it's here, it's on the Bloomberg Terminal.
LEARN MORE