Selling Peace of Mind to Sell More Used Stuff
by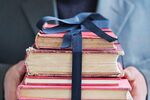 James Reinhart says ThredUP, his three-year-old online marketplace for used children's clothing, has lured plenty of parents who are comfortable swapping gear, but he yearns to attract a wider customer base. To make that happen, in February the 33-year-old former teacher shifted his business model, inserting his company into the sales process by buying directly from customers at 20 percent to 40 percent of each item's estimated resale value and posting it for sale on the site. "We want to build a mainstream consumer business, and you need to strip out a lot of the friction to do that," he says.
The San Francisco company, with 120 employees, is one of a growing number of re-commerce sites that go beyond providing an electronic platform to connect buyers and sellers, says Nikoleta Panteva, senior retail analyst at IBISWorld, a market research firm based in Santa Monica, Calif. This new wave of smaller companies differentiate themselves by trying to make used goods more attractive by sprucing them up or authenticating them, much as auto dealerships have added "certified, pre-owned" cars to their lots. The idea is that an outside party is vouching that the used stuff is worth buying; it's not something shabby, or, in the case of gift cards or collectibles, fake.
"I've seen more of this business model popping up, particularly in the last six months, as the online retail industry is reaching the saturation point," says Panteva. These companies are not going to overtake market leaders any time soon, but there is "some room" [for them] to grow, and the more successful ones will carve out their niches," she says.
The U.S. e-commerce and online auctions market is dominated by Amazon.com and EBay, which together account for 14.5 percent of the total $219.2 billion marketplace, according to an October 2012 IBISWorld report, and the industries have been growing at an average of more than 10 percent annually since 2007, despite the recession.
Part of the reason for the growth is the wider acceptance of used goods that began nearly two decades ago when electronics companies began releasing updates every few months, says John Krubski, a futurist and business strategist with ITLC Insights in Westport, Conn. "Consumerism used to be about accumulating stuff, keeping it and maintaining it," he says. "Now we no longer have to have relationships with stuff. We can buy it, use it while we need it, and move it along."
Of course, most people are hesitant about buying directly from strangers advertising used goods online. For example, U.S. spending on gift cards is expected to reach $28.79 billion this year, according to an October 2012 survey by the National Retail Federation, with more than 80 percent of shoppers planning to purchase at least one gift card. But about 10 percent of the cards will go unused because they are unwanted or inconvenient, says Elliot Bohm, co-founder and chief executive officer of two electronic gift-card exchanges, ABCGiftCards.com and CardCash.com. "People are very wary of dealing with unknown third parties because the gift cards could go bad if they were purchased with a stolen credit card or if the seller keeps the numbers and uses [the card] online," Bohm says.
He founded the online gift-card markets in 2008 when he noticed that there were few places for him to sell his unused gift cards. He expects his 25-employee East Windsor (N.J.) company will have $20 million in revenue this year. He adds value by purchasing unwanted cards for 80 cents on the dollar, authenticating and guaranteeing them, and reselling them for 90 cents on the dollar. "It's a win-win, because the person who had no interest in [the gift card] got cash, the buyer will save 10 percent the next time they shop at a merchant they would go to anyway, and we make money on our end," he says.
That kind of third-party verification may work on risky items, but it doesn't necessarily spell success, says Ravi Dhar, a Yale marketing professor who specializes in analyzing online marketplaces. "Curation is already happening on places like Amazon through comments on the quality of the sellers and feedback on how reliable they are," he notes. "Once you're talking about a platform that has access to millions of people, no stand-alone is going to touch that."
Where smaller, niche businesses may be able to differentiate themselves in the retail aftermarket is in the realm of taste, Dhar says. "It's happening more for class than mass. If a boutique can find the hottest trends in Europe, say, and develop some kind of certification based on popularity or expertise, then it makes more sense."
Before it's here, it's on the Bloomberg Terminal.
LEARN MORE