pursuits
Desperate, Hockey Fans Root for Virtual Team
The life and times of a real-life beat reporter covering an imaginary hockey season
By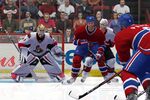 Pat Hickey, who covered his first Montreal Canadiens game in 1968 for the now-defunct Montreal Star, and who has chronicled the team's exploits over the past 22 years for the Montreal Gazette, is pleasantly surprised by the team's start this season. Last season the Habs (the local nickname for the team) finished at the bottom of the National Hockey League's Eastern Conference. But as of Monday, Hickey notes, the Canadiens were tied for first. "I thought they were better than a last place team last year," he says. "They have injured players back that have made a difference, but still I'm surprised that they're up there."
Hickey has not lost his mind. He's well aware that the NHL is the 72nd day of a lockout that threatens to swallow the 2012-13 season. The Canadiens he's talking about play inside an Xbox 360 video game consul in a lounge at the Gazette offices. (O.K., maybe Hickey has lost his mind.)
Since opening day on Oct. 11, Hickey has been covering the Canadiens season as it plays out in a simulation on the EA Sports NHL 13 video game. As with other games in the EA Sports franchise, NHL 13 includes an automatic setting that plays out games (and entire seasons) based on embedded information about players' strengths and tendencies. The EA simulated game has become a regular epiphenomenon of the sports world. ESPN covers the simulated Super Bowl every year. (EA has correctly picked seven of the last nine winners.) Hickey is taking the idea to a fresh extreme, however, logging his regular post-game write-ups—quotes and all—as if the simulated games were real. "It wasn't my best game but I didn't have to be my best because the guys gave me a good lead," Hickey meta-quoted Canadiens goalie Carey Price in a recent post on the team's imaginary 6-3 victory over the Vancouver Canucks. "I could have practiced Thursday but we didn't want to push it. I lost some weight because I couldn't eat for two days."
Hickey says it takes about an hour to watch EA's condensed versions of simulated Habs games, four at a time. "We slow it down when there's a goal," he says. On game nights, he spends 45 minutes writing up the results, including stats provided by the video game. The quotes are his best guess—based on 44-years in the business—at what the players and coaches would say. "So far, nobody has accused me of misquoting them," he says, "so I guess I'm doing O.K.." Habs winger Brian Gionta approached Hickey at a recent charity match to inquire if he had scored in that night's imaginary game. (Gionta, for the record, had a goal and an assist.)
Hickey says he misses the genuine games but that there are some perks to covering hockey avatars. "When [the Canadiens] lose," he says, "it's a lot easier to get quotes out of guys when you make them up, rather than trying to find some guy who's hiding." On the downside, he's not earning Marriott Rewards points from all those away games. (The hotel chain doesn't recognize simulated travel.) So he's not sure he'll be able to take his wife on vacation this year.
Last weekend, Hickey's pseudo-game wrap was the most-read sports story on the Gazette's website. It's not the only case of collective NHL hallucination. In Columbus, Ohio, according to the website Deadspin, Blue Jackets fans gathered at R-Bar, outside the team's arena, to watch an EA simulated match with the Vancouver Canucks on big-screen TVs. The Washington Post reports that Capitals fans have been doing the same at a bar in Arlington, Va. EA is also logging the entire simulated season on its website and at ESPN.
Hickey says those fake Canadiens games pale in comparison to the authenticity his paper puts into its pseudo matches. "We tinker with the lineup," he says of the Gazette's bespoke simulated season. "We throw in the backup goaltender a couple of games. … We've moved some guys on different lines."
Before it's here, it's on the Bloomberg Terminal.
LEARN MORE