Chart: What Black Friday's $59 Billion Really Tells Us
by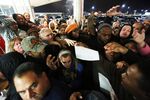 Black Friday is not always the cheapest time to shop, but it certainly gets the most hype. Analysts, retailers, and assorted pundits pick apart the sales that take place during every Thanksgiving break for signs as to how much money Americans will drop over the holidays. The results are often mixed. This year, the National Retail Federation (NRF) is trumpeting a strong surge in spending. It says a record 247 million shoppers spent an average of $423 (a total of $59.1 billion) over "Black Friday weekend," a period that now extends from Thursday to Sunday as more chains open on Thanksgiving Day. If true, that would amount to a 13 percent jump over the $398 they reported spending last year.
Don't break out the bubbly just yet. NRF estimates for Black Friday spending are based on a consumer survey, and their accuracy is open to question. Even a legitimate boost in sales can indicate variously that consumers are feeling flush, or that they're desperately chasing doorbusters because money is tight. While the U.S. Commerce Department doesn't break out Black Friday sales, its figures suggest that the final tally for holiday spending isn't likely to be as stratospheric as the trade group's weekend numbers suggest.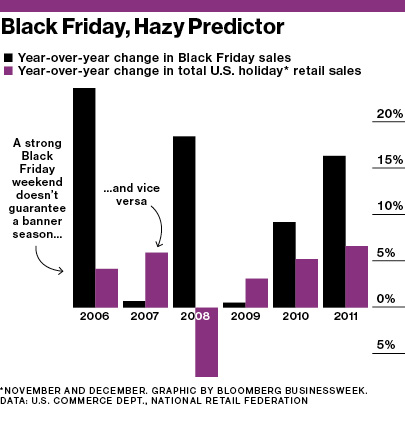 Before it's here, it's on the Bloomberg Terminal.
LEARN MORE