At SAC, Portfolio Managers Are Treated Like Stocks
Mathew Martoma is the latest fired SAC managers to be accused of insider trading
by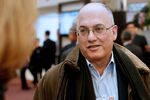 "In a 2010 e-mail suggesting that Martoma's employment be terminated, an Investment Adviser A officer stated that Martoma had been a 'one trick pony with Elan.'"
That sentence, contained in the complaint (PDF) filed on Nov. 20 by the Securities and Exchange Commission against former SAC Capital portfolio manager Mathew Martoma, seems to sum up what working for Steven Cohen is like.
Cohen's SAC, "Investment Adviser A" in the complaint, is structured to be intensely competitive. Cohen treats his portfolio managers and analysts in the same way he does stocks, according to a former employee who was involved in the selection of securities for an SAC fund and who asked not to be identified because he is not authorized to speak publicly about the case. If someone doesn't perform, he is quickly tossed aside. Martoma is not the only person whose tenure was curtailed: Noah Freeman and Donald Longueuil, former SAC portfolio managers who were charged with insider trading in 2011, were both fired for poor performance by Cohen after working two-year terms.
Cohen has not been accused of any wrongdoing. SAC spokesman Jonathan Gasthalter says: "Mr. Cohen and SAC are confident that they have acted appropriately and will continue to cooperate with the government's inquiry."
While the possibility of being chewed up and ejected is ever-present, the potential for making enormous sums of money if things go your way at SAC is huge. Martoma's 2008 bonus, according to the SEC complaint, was $9.3 million. It was not uncommon, according to the former employee, for bonuses at Cohen's shop to be even larger.
All of which raises the question of whether a workplace can be so pressurized—and so potentially rewarding—that it drives people to cross ethical or legal lines. At least six former SAC employees have been implicated in the broad campaign the government launched a few years ago to clamp down on insider trading.
According to the former SAC employee, an internal recruiting team scours the investing landscape for promising portfolio managers Cohen might hire. The firm may track these people for years as their careers develop, awaiting the right moment to approach them. Those deemed talented enough are offered a tantalizing deal: Cohen will give you a couple hundred million dollars to manage independently, and you will sink or swim, based on your investing decisions. Because SAC charges its investors an "incentive fee" of 50 percent of profits—far higher than the industry standard of 20 percent—Cohen can offer his portfolio managers a relatively generous 30 percent cut of the profits they generate, while still retaining the standard 20 percent for himself.
The catch is that Cohen, who simultaneously manages a separate multibillion dollar portfolio of his own, constantly mines his portfolio managers for their best ideas so he can trade on them himself, says the former employee. The arrangement provides Cohen with a built-in, highly motivated research staff that's aggressively searching for profitable ideas. And because Cohen is the only one who knows exactly what each portfolio manager is holding, he can pick and choose from the best opportunities across a broad array of options, according to the former employee.
SAC wasn't the friendliest place to work, the former employee added. Then again, that may be a small price to pay for the possibility of never having to work again. As for Martoma, he appeared in federal court on Monday morning, when terms of his bail were altered so he can remain free.
Before it's here, it's on the Bloomberg Terminal.
LEARN MORE