Adding the 2013 Chevy Volt to a Solar-Powered Home
Kevin C. Tofel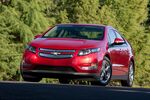 After a full year of using solar electricity in our home, my family took the next step over the holiday weekend and bought a plug-in electric vehicle. While running errands, we passed a local dealer to test-drive the only 2013 Chevrolet Volt on the lot and ended up driving it home a few hours later. Earlier this month, I noted that we were considering such a move because our 41 rooftop solar panels had generated 6207 kilowatt hours of excess electricity.
My wife and I both work from home, so even though we can certainly rack up miles on our vehicles, most travel is short-range. Still, we didn't want to go completely electric for our next car because we occasionally like to take trips to New York, Baltimore, and Washington, all of which are at least 100 miles away.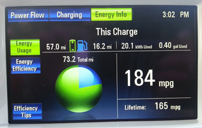 How much did our Chevy Volt cost? I shared the details and costs of our solar panel project, so it makes sense to cover the Volt financials, too. The car still qualifies for a $7,500 federal tax credit, which can help offset some of the expense. That's good because the base 2013 Volt starts at $39,145. Our particular vehicle has a few options—alloy wheels, a rear camera, sensors for front parking assistance, and a forward collision alert camera—bringing the manufacturer's suggested retail price to $41,935, including destination charge.
For a few reasons, we opted to lease the vehicle, so we won't get the direct tax-credit benefit. Instead, the dealer gets the credit and can apply some of it to reduce the leasing costs. Since the Volt doesn't have a long history of proven technology, we opted to work with the dealer on the lease and after applying some equity on our trade-in, our total payment, including tax, is $301 per month for 36 months. We also got a 4000-watt gas generator from the dealer, which was a Thanksgiving weekend perk, so now we're really ready for the next big storm.
Ultimately, we paid nothing out-of-pocket because of our trade-in and various incentives that GM and Ally Bank currently offer. We also opted for 15,000 miles per year—which raises the monthly cost—because the Volt will be our primary vehicle. A further $6 of the monthly payment extends the 36,000 mile warranty to our potential 45,000 miles. (Bear in mind that any particular deal you work out on a Volt will likely vary from ours; I'm simply trying to provide an idea as to what it might cost.)
Is the Volt efficient? Obviously, it's too soon to say how efficient the car will be. So far, I'm impressed. During the first 73.2 miles we drove, the car used 0.4 gallons of gas once the battery was depleted. Note that this data is for two days and the battery was recharged once; GM says you should expect about 38 miles of driving on the battery before the gas generator kicks in.
The Volt uses premium gas, which currently costs around $4.00 a gallon in this area, so the 0.4 gallons used essentially cost us $1.60. Electricity costs are involved, too, when you consider the need to recharge the Volt, even though we over-produce energy with our solar panels. We currently pay just under $0.09 per kwh—not including any distribution costs, taxes, or other fees—and we get paid at the same rate for excess energy.
So the 20.1 kwh used for our 73.2 mile drive would cost $1.81 on our electric bill. That works out to $3.41 for this driving session. Our old vehicle averaged 20 miles per gallon and also used premium fuel, so the same 73.2 miles we just covered would have cost $14.64 in gasoline. Note that there are many costs and benefits to look at, both short-term and long-term. The above exercise is just one example to view the cost to travel.
Bring your smartphone. Although we got a Volt to pair with our solar panels, I'm impressed with the car's MyLink system, which is also available in other Chevy vehicles. MyLink is used on the 7-inch touchscreen—the same one that monitors energy usage above—through voice commands and GM's OnStar service.
My wife and I each paired our smartphones with the MyLink system over Bluetooth, which lets us stream audio through the Pandora and Stitcher apps on our handsets. Both iOS and Android are supported and there's even a MyLink application for both platforms. With it, we can remotely monitor, stop, or start the battery-charging process, check our fuel level, start the car, and much more.
MyLink will also play music from a USB-connected iOS device or from a USB stick. The system integrates Gracenote's music data base for audio file information such as title or artist and can display cover art as well. All this music can also be controlled through voice. Say "play artist" and the system will ask for an artist name. Speak it and the appropriate artist tunes start playing over Bluetooth audio or USB.
I like the idea that the car uses a smartphone for connectivity, mainly because I don't want my connected car to have an embedded connection of its own. That's just another potential data plan to pay for, and there's no need for it when a smartphone can provide a 3G or 4G connection to the car. I expect more apps to be supported in MyLink as well, although I've already streamed music over Bluetooth from my Rdio app. GM is expected soon to add a connected map service called BringGo that stores maps on a connected smartphone and uses them on MyLink for in-dash navigation.
We're just starting. Adding a Chevy Volt to our garage may make more sense for us than for most others. We have excess electricity and we can go farther on that energy for less than the price of gasoline. With our driving habits, we may not need to fill the gas tank for six weeks or more. I realize that not everyone fits into this category. But I think it's important to share the details of this experience to help those interested learn more about the pros and cons of electric vehicles—and solar electric energy, too, for that matter.
As we do more traveling with the Volt, I'll periodically share more of the experience. Until then, leave any questions in the comments section and I'll do my best to address them.
Also from GigaOM:
Forecast: Electric Vehicle Technology Markets 2012-2017 (subscription required)
Why Are Android Users Less Engaged Than iOS Users?
No, a Legal Notice Will Not Protect You From Facebook—So Stop Posting Them
Google Mobilizes Users in Fight for its Robots' Core Values
Before it's here, it's on the Bloomberg Terminal.
LEARN MORE