A Buffalo Wild Wings Ad Comes to Life in Miami
By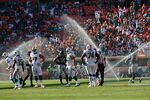 At the end of the third quarter of Sunday's matchup between the Miami Dolphins and the Seattle Seahawks, played under a cloudless sky at Miami's Sun Life stadium, the game was interrupted by a sudden downpour. The stadium's sprinkler system had inexplicably turned on, drenching players and referees and momentarily delaying the action.
For football fans, the scene looked strangely familiar. "Buffalo Wild Wings commercial just broke out in Miami…sprinklers everywhere!" tweeted NFL Network's Rich Eisen, referring to a long-running TV spot in which fans at a Miami outpost of Buffalo Wild Wings hack into a local stadium's sprinkler system to sabotage a game in the interest of prolonging it. The Minneapolis-based restaurant chain also picked up on the coincidence: "We are really into this Miami/Seattle game," said the company's official Twitter feed about 40-minutes after the mishap. "Hit the sprinkler button a little early, though. #oops."
We contacted Buffalo Wild Wings to explore their good luck. "As millions of people saw, our ad campaign came to life," says Kathy Benning, Buffalo Wild Wings' executive vice president for global brand and business development, in an e-mail to Bloomberg Businessweek. "We always talk about how we bring the stadium experience into Buffalo Wild Wings, but yesterday, it looked like we brought Buffalo Wild Wings to the stadium. Our passionate fans were quick to point out the connection."
Wait—we? Is Buffalo Wild Wings trying to take credit for this bizarre, on-field bungle? "Now we just need to get those sprinkler controls fixed in our Miami restaurant," jokes Benning. Calling all football conspiracy theorists: Put down your wings and have at it.