Blanchflower to Replace Bernanke
by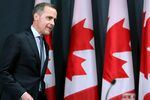 Mark Carney will face an approval hearing at U.K. Parliament's Treasury Committee before the new job commences on July 1, the day after Mervyn King steps down. Carney, who is married to a Briton and has four daughters with dual nationality, plans to serve for five years and will seek British citizenship.
—Scott Hamilton, Svenja O'Donnell, and Simon Kennedy, "Canada's Carney Chosen to Replace King as Governor of BOE," Bloomberg News, Nov. 26, 2012
You know who really gives kids a bad name? Posh and Becks.
—Stewart Francis, comedian of Canada
David and Victoria Beckham have children called Brooklyn, Romeo, Cruz, and Harper Seven.
Stewart Francis, Canadian, took home the trophy for funniest joke at this year's Edinburgh Festival Fringe as given by TV channel Dave. (We thank the BBC for Aug. 20, 2012 reporting.)
George Gideon Oliver Osbourne, MP, Chancellor of the Exchequer, Second Lord of the Treasury, takes home the trophy for boldest economic move of this global financial crisis.
Stunning.
The above deadpan joke, I would suggest, is totally lost on Americans.
I would further suggest it signals that the cultural distance from Ottawa to London is of a lesser distance than from Washington to Ottawa.
The announcement of Dr. Carey's ascension to the throne of the Bank of England is joyous and brave. It is just absolutely brilliant.
We believe the advantage of having issued 1-2-3-4! British daughters will provide said father a quality briefing on whether Mr. Francis's humour (and the "u" is the way they do it) is appropriate for Dad as he is dragged before Parliament's Treasury Committee.
(Memo: The NHL needs to un-strike soonest and consider moving the Columbus Blue Jackets to London as the London Oaks.)
Any and all of this is unimaginable to Americans.
I would dare say that an approximate equivalent mating would be the modest labour (and the "u" is the way they do it) economist shrouded within the Dartmouth Bubble.
Today's historic announcement can only be trumped by "Blanchflower to Replace Bernanke." Discuss.
Before it's here, it's on the Bloomberg Terminal.
LEARN MORE