No Soul-Searching for These Republicans
By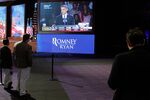 The presidential election is over. Since then, one Republican leader after another, from House Speaker John Boehner to Virginia Governor Bob McDonnell, has struck a conciliatory tone with the Obama administration. Things are a little different at the Republican National Committee.
"Obama's Press Conference Supposedly Outlining His Second Term Agenda Turned Into A Q&A About Nothing," reads a blog post entitled "Obama's Second Term Fluff" that runs across the home page of the party's website, GOP.com. Beside it, two pictures of Obama—one with the words "The Big Fail" and the other with "Just More Words"—alternate on the page. Another post, about Obama's meeting with Wall Street leaders last week, is titled, "Obama's Adventures In Business Outreach Have Often Failed To Impress, Which Is Why Today He Is Meeting With White House Allies." The post quotes journalist Bob Woodward's book The Price of Politics, detailing White House adviser Valerie Jarrett's missteps in dealing with the business community.
Despite the curbs on anti-Obama rhetoric some Republicans adopted after the election, the RNC has a very specific need to begin raising money for 2014 congressional candidates and financing the party's 2016 convention. Unlike the politicians in Congress, who are trying to strike a debt deal before the 2013 fiscal cliff arrives, the committee's primary purpose is fundraising.
Collecting those dollars requires capitalizing on the party's most passionate supporters, the ones who will donate during non-election years, when there's no presidential candidate to rally behind. It requires abundant courting to hold their interest.
"What you want is to keep that sense of threat," says Michael Heaney, an assistant professor of political science at the University of Michigan. It's well-documented that people are motivated to get involved politically more by the feeling that their values are threatened than they are by a sense of opportunity, Heaney adds. "If you, the RNC, wanted to raise money, I don't think it would make sense to say, 'Send money to the RNC! We're going to work with Obama!'" he says. "That would be a pretty disastrous fundraiser."
The DNC, meanwhile, appears to have suspended its ire toward the GOP and is basking in victory—at least for the moment. The website is a paean to voters who showed up on Election Day. The Dems do take a minor jab on their blog, reminding readers that "Republicans tried to keep certain voters from the polls—and on Election Day, they suffered the consequences."
Heaney says any softer tones on both sides aren't likely to last long.
Before it's here, it's on the Bloomberg Terminal.
LEARN MORE