pursuits
What Does a $225 Turkey Taste Like?
By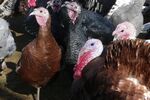 While the average cost of Thanksgiving dinner for 10 crept up to $50 this year, according to the American Farm Bureau Federation, some consumers are willing to fork out much more. At Ayrshire Farm in Middleburg, Va., the price of a 25-pound organic turkey: $225. That's more expensive than an iPhone 5 (well, on contract). The farm also sells cooked 16- to 20-pound birds for $250.
According to Dave Stephens, the farm's meat processing plant manager, the taste (and for some, the peace of mind) that comes with eating a certified organic, "humane" bird is worth every dollar. "Because they are allowed to socialize and forage, and run around looking for leaves and bugs and stuff, they actually develop a darker dark meat and are a little more substantial in texture," he says.
Ayrshire's 25-pound birds are Holland Whites, with a white-meat-to-dark-meat ratio of about 60/40, Stephens estimates. These are larger than average heritage birds, which normally do not grow to more than 20 pounds. The organic turkeys mate naturally, are not fed hormones, and are allowed to roam freely. Heritage turkeys sold through Heritage Foods USA cost about $8 per pound as well.
This year Ayrshire Farm raised about 800 of these 25-pounders, and the vast majority of them are sold for Thanksgiving. Tuesday morning, the farm gave one as a gift to Virginia Governor Bob McDonnell.
Some may blanch at the thought of paying $25 to $50 for their turkey, but these upscale birds are actually cheaper than some other options. Chef Daniel Boulud's catering company Feast & Fetes, for example, will prepare and serve a turkey dinner with appetizers and dessert at your house for about $140 per person. Wine, unfortunately, isn't included.
Before it's here, it's on the Bloomberg Terminal.
LEARN MORE