Apple's Maps Mess Boosts a Public Transit App
Erica Ogg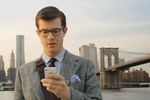 When Apple chose not to include public transportation directions in the iPhone's new default Maps app, many city dwellers were pretty upset. But there's at least one guy who's really happy: David Hodge, founder and chief executive officer of Embark, a San Francisco startup that publishes a series of detailed public transit routing apps for iOS. Thanks to Apple's decision to build only car and walking directions into Maps, Hodge and his five-person team at Embark have seen their downloads spike since iOS 6 arrived in late September, and the company even landed a high-profile investor from the transportation world: BMW.
Embark is free, distributed as individual apps tailored to 12 major public transportation hubs in the U.S. and Europe. Prior to September, Embark had been available for nearly a year, but its apps remained well under the radar for most user. The arrival of Apple's new Maps app changed that: During the first week of the iOS 6 update, Embark was downloaded 100,000 times. It was a huge and sudden boost for Hodge and his team, and the post-iOS 6 boom has continued. Hodge wouldn't give me an updated figure on Embark's total number of downloads since then, but he says user sessions in the last two months have grown by a factor of 2.5 to 10 in all markets. Downloads have increased by near the same measure.
New York City, Embark's largest market, has more than doubled its user sessions since September. But the biggest growth area has been abroad: The app has 10 times as many users in London since then, after being available for 10 months prior to Apple's Maps debut. "Granted, London was a smaller market at the time for us," Hodge says. "But what iOS 6 proved was that if you had a good transit app, all of a sudden people would find it."
People are finding Embark because Apple has created a special section of its Maps app that recommends local transit apps. Embark is just one of these apps, with heavyweights including Navigon and Garmin providing big brand-name competition.
Users aren't the only ones who have discovered Embark since September. Potential investors came out of the woodwork too: BMW announced at an auto industry event last week that it has invested in the former Y Combinator startup. The German automaker did not disclose the amount it's put into Embark.
As far as what Embark is working on for BMW, Hodge won't say just yet. But he noted that BMW is looking at how all forms of transportation are an issue for big cities everywhere, something he referred to as "intermodal mobility." "They're talking about how people are driving to the train station, asking when will the train arrive," Hodge says. "That's one possibility."
What will be interesting is how Embark continues to fare as all-in-one mapping and routing solutions from more name-brand competitors begin to pop up. Nokia, for instance, is now selling its Here app on iOS with integrated transit directions—though early reviews weren't great. It did manage to beat Google to the iOS App Store, but it is widely assumed that Google will eventually bring its own Maps app to iOS 6. And that'll be tough to compete with: Google was the go-to public transit routing app for many users before Apple removed it as the default option.
But Hodge isn't spending too much time worrying about larger competitors. He really likes his chances as a small startup: "The biggest challenge we see in this space, for Nokia, for Google, Apple—they have to immediately go to scale when they launch," he says. "They can't perfect the formula; they have to do it everywhere at once." Hodge also says the fact that public transit directions in Nokia's San Francisco maps aren't very good reflects a "lack of focus." Considering the task at hand, however, of having to map every metro area at once, he says, "it's understandable."
Embark thinks its secret to success is getting the little things right. Like timing how fast people walk between subway stops in New York, or knowing which bus lines tend to be unreliable. Those details, which lead to accuracy and ease of use, are what the company believes will continue to win customers.
Although Embark is in just 12 markets, the company says it's happy it started small first. "We'd rather start by doing a great job in a few places" than be mediocre everywhere, Hodge says.
The influx of money from BMW is going to help with that. The first order of business? Expand to more markets.
Also from GigaOM:
Why (and How) the Apple Maps Debacle Should Be Nokia's Gain (subscription required)
Japanese Youth Dumping Fiber Lines for LTE
Is This the Next Big Phone OS? Meet Jolla's MeeGo-Based Sailfish OS
10 Things to Be Thankful for This Year in Cleantech
The Technological Imperative: An Excerpt From the Battle of the Books
Before it's here, it's on the Bloomberg Terminal.
LEARN MORE