The Only Grown-Up in the Room
by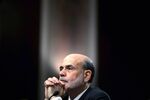 Rep. Ron Paul (R-Texas), who battled Governor Mitt Romney for the Republican presidential nomination, built his campaign around dismantling the Federal Reserve, which he said is "dishonest, immoral and unconstitutional."
Romney hasn't gone that far, but clearly has not been a fan of Bernanke. … "I want to make sure that the Federal Reserve focuses on maintaining the monetary stability that leads to a strong dollar, and confidence that America is not going to go down the road that other nations have gone down to their peril," Romney said.
—Jim Puzzanghera, "Romney Reaffirms He Wouldn't Reappoint Bernanke as Fed Chair," Los Angeles Times, August 24, 2012.
Truth is, the rubber chicken was "dishonest and immoral."
The 12th chairman sat behind the 14th chairman as Ben S. Bernanke waxed philosophical about our five-year search for "the positive virtuous circle," this today in front of an "intimate gathering" of 2,000.
The Economic Club of New York is a nonpartisan forum for people who agree to agree and, collegially, yet with firmness and always at the margin, disagree on important matters.
With Blinder of Princeton and Feldstein of Harvard asking questions, all that was missing was the 13th chairman and John B. Taylor of Stanford.
Ben S. Bernanke has succeeded Paul Volcker and Alan Greenspan and on the fly has invented an original monetary-economic mix to stabilize America. This while the children of Washington were, and are, at recess.
The politicians, post-election follies, are still out in the playground. On a Cliff-ed December day, they just may freeze their tongue to the cold, cold steel flagpole.
Ron Paul, Mitt Romney and their caste of second-rate certitude were nowhere to be seen this Thanksgiving Tuesday. It is reported they have "gone down to their peril."
Two thousand strong, from Glenn Hubbard to Paul Volcker, from John Lipsky to Peter Orszag and from Alan Blinder to Martin Feldstein, showed up to listen to, and salute, the only grown-up in the room. Discuss.
Before it's here, it's on the Bloomberg Terminal.
LEARN MORE