I'm Focused on Dec. 22, 2012
by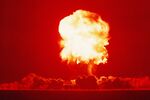 Surviving the coming events of Dec. 21, 2012, is not necessarily like surviving other natural or manmade disasters. You and your family will have to be more proactive and assume more preemptive strategies for long-term or even permanent survival. You need to realize that this will be a global event that will affect each and every living thing on the planet.
"The Time Has Come Prepare to LIVE or Prepare to DIE," Official Survival Guide, december212012.org.
For the ancient Maya, it was a huge celebration to make it to the end of a whole cycle … the portrayal of December 2012 as a doomsday or cosmic-shift event to be a complete fabrication and a chance for a lot of people to cash in.
—Sandra Noble, executive director of the Mesoamerican research organization Foundation for the Advancement of Mesoamerican Studies Inc. (FAMSI), Maya Calendar, Wikipedia.
And I thought the Fiscal Cliff was a crisis.
As we stagger to 2013, we may best understand that worry is a normal human condition.
I worry about Apple. I worry about the Red Sox. I worry about our debt and deficit. I worry that Ivan, the hair guy, will move back to Ecuador.
There is a set of men and women worried about various shades of the known world coming to a worrying end on the 21st of December, immediate.
I would suggest this set does not include the brave men and women distracted by picking up their lives post-Hurricane Sandy. It does not include those searching for opportunities based on cash-flow growth of America's best corporations, and it most certainly does not include the staff of medical professionals and first responders that do each and every day.
They do not "worry" about worrying.
The gloom, doom, and we're-all-gonna-die crew will be with us … forever. Let them worry and let them carry the baggage of worry for you. Me, I'm focused on Dec. 22, 2012. Discuss.
Before it's here, it's on the Bloomberg Terminal.
LEARN MORE