HP's Financial Mess Is Making Everyone Sorry
by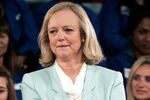 You know who's probably having the best day ever? Try Mark Hurd, the guy who had to resign as chief executive of Hewlett-Packard in August 2010 under a cloud of HR shadiness.
Due in large part to the incompetence of the management that replaced him, and the board that oversaw it all, shares of the venerable Silicon Valley pioneer have since fallen 75 percent, visiting lows unseen since the mid-1990s. Just days after the firing, in letter sent to the New York Times, Hurd's friend and soon-to-be-new boss, Oracle CEO Larry Mr. Ellison, declared: "The H.P. board just made the worst personnel decision since the idiots on the Apple board fired Steve Jobs many years ago." Three weeks after his departure from HP, Hurd gave notice of his plans to cash out of more than $30 million in company stock.
Today, Hurd and Ellison, both at Oracle (now worth more than six HPs) must be belting out thunderous buhaahahhas. On Tuesday, Hewlett-Packard announced an $8.8 billion charge, citing "a willful effort to mislead investors and potential buyers" at Autonomy, the U.K. software company Hurd's short-lived replacement, Leo Apotheker, agreed to purchase for $10.3 billion.
"HP is extremely disappointed to find that some former members of Autonomy's management team used accounting improprieties, misrepresentations, and disclosure failures to inflate the underlying financial metrics of the company, prior to Autonomy's acquisition by HP," Hewlett-Packard said in a statement.
Autonomy aside, HP forecast fiscal first-quarter earnings that missed analysts' estimates amid a continued decline of its personal computer franchise. As for the fourth quarter: HP registered a net loss of $6.85 billion, compared with net income of $239 million a year earlier. It's just the latest in a tragicomic series of largely self-inflicted wounds that have felled the tech giant.
So what now? For starters, some freshly served mea culpas.
CEO Meg Whitman took to CNBC to publicly regret voting for the Autonomy deal when she was just a board member.
One investor who should be taking a major bow on HP is short-seller Jim Chanos, who this summer warned HP was the "ultimate value trap." Looking ahead, it all raises the question: How much more time will shareholders give Meg Whitman and her board to turn around a supertanker that increasingly looks like it's taking on water?
According to Jefferies analyst Peter Misek, despite HP's seemingly sufficient cash flow, its dividend "could be in serious danger" next year. While the company's diminished market capitalization of $23 billion makes it look ripe for activist agitation or even euthanasia-by-takeover—Oracle, anyone?—directors have already moved to silence an internal agitator in their ranks.
ISI Group analyst Brian Marshall apologized to clients for recommending the stock: "We can no longer recommend investors buy shares of HP at current levels as negative information continues to pour out, the end is not in sight, and we no longer understand what we are 'playing for.' … HP has become the 'quintessential value trap' as material negative news overrides any small positive developments and forward estimates continue to decline at a rapid rate. We apologize to investors for our extremely poor performance on this attempted 'value' play."
For added measure, Marshall quipped that HP has "more shoes than Imelda Marcos."
Before it's here, it's on the Bloomberg Terminal.
LEARN MORE