A Slowing China Proves a Less-Attractive Investment
By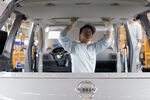 Why is the money drying up? That question confronts China as it experiences its 11th consecutive month of falling foreign direct investment. Overseas investment in China in October fell 0.2 percent from a year earlier, to $8.31 billion. The 10 months through October showed a steeper drop, down 3.5 percent to $91.7 billion. Last year, China drew a total of $116 billion, setting a new record.
One obvious factor is the shaky global economy. With companies around the world facing still-fragile growth prospects, pumping money abroad has become a less-attractive choice. It's no surprise that hardest-hit Europe, still struggling to get out from under its debt crisis, pulled back the most in China: Investment from the European Union was down 5 percent year-to-date, to $5.24 billion.
Investment from Japan also slowed in October. It grew 10.9 percent, to $6.08 billion, in the first 10 months of the year, but that was much slower than the 17 percent growth recorded through September, when an ongoing island dispute set off violent anti-Japan protests across China. Demonstrators targeted Japanese businesses, and vandalism was reported against Toyota, Honda (7267:JP), and Panasonic (6752:JP). (Investment from the U.S., by contrast, increased 5.3 percent, to $2.7 billion.)
Toyota's supplier of headlights, Koito Manufacturing (7276:JP), has suspended a plan to triple its output in China. And wiring-harness maker Sumitomo Electric Industries (5802:JP) and Toyo Tire & Rubber (5105:JP) are each rethinking plans to expand in China because Japanese car sales there fell after the protests. The manufacturers are instead planning to expand in Thailand, Vietnam, Myanmar, Indonesia, and Cambodia. Nissan (7201:JP) has said it will carefully consider any future expansion.
"This year, the international economic situation is grim and complex and there are many uncertain factors," said Commerce Ministry spokesman Shen Danyang at a press conference to announce the latest data on Nov. 20. Meanwhile, China's overseas investment in manufacturing and other non-financial operations grew 25.8 percent, to $52.8 billion, in the first 10 months, Shen said.
China's slowdown is one reason it has become a less-attractive investment target; the economy is expected to grow by 7.7 percent this year, its slowest pace in 13 years. Overcapacity in industries that include steel, cement, coal, aluminum, textiles, and machinery is squeezing profit margins. As of Sept. 30, total accounts receivable—money owed for products already delivered—for industrial companies reached 8 trillion yuan ($1.3 trillion), up 16.5 percent from September 2011. And credit is tight, particularly for small and medium-sized enterprises.
All this is denting confidence. According to a recent government survey of business sentiment among Chinese entrepreneurs, 47.3 percent say the economic climate is bad or very bad, up from 24.8 percent last year. Top worries include "a lack of overseas demand, excess capacity, and financing difficulties," reported the official China Daily on Nov. 20.
A further big issue for manufacturers is rising labor costs, which are making China-based production less competitive. China has set a goal of at least 13 percent growth in average minimum wages from 2011 to 2015, a target it has been exceeding. Cambodian workers are paid around $90 a month for a 60-hour workweek, while Chinese workers get from $336 a month, in less-developed Jiangxi province, to $552 a month, in Shenzhen, for a 48-hour workweek. (Chinese factory workers still earn less than a tenth of the average $34 per hour earned by their U.S. counterparts, according to consultancy Gavekal.)
"Some companies are choosing to locate new export-oriented manufacturing capacity in other countries, reflecting the rapid wage growth in China," points out Louis Kuijs, Hong Kong-based chief China economist at Royal Bank of Scotland. "Globally, in a climate of economic weakness and financial fragility, many companies have been reluctant to venture abroad and invest."
Before it's here, it's on the Bloomberg Terminal.
LEARN MORE