business
When Designers Want Their Clothes 'Made in the USA'
By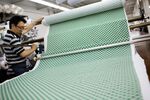 In the nearly four decades since Cody Campbell's family began hand-blocking fedoras, porkpies, and straw hats in New York's Garment District, the domestic apparel industry has shrunk dramatically. But when it comes to marketing and sales, things aren't much different from 1974, when Campbell's mother opened Makins Hats. "Most of the companies are not online, or they have awful, awful websites. Your grandpa might still own the company. He's still taking orders by hand over the phone–what the hell does he care about the Internet?" says Campbell, 34. "Factories are hidden away on upper floors of buildings. You have to get referrals from this guy, who calls that guy, who knows another guy, before you can even find them."
A new online directory of domestic manufacturers, Maker's Row, is tackling these problems by giving U.S. manufacturers an easy way to market their goods and services and help entrepreneurs find them, say founders Matthew Burnett, 28, and Tanya Menendez, 24. The pair—with a third partner, 29-year-old Scott Weiner—launched the venture in June 2012 as part of accelerator program Brooklyn Beta Summer Camp. So far, they have raised $75,000 in angel investment and have listed 1,200 manufacturers, large and small, across the country.
The site currently links designers with apparel and accessories manufacturers; their goal is to expand into other industries in 2013. The company isn't making money yet, but its business model will revolve around manufacturers paying for enhancements to their profiles, such as video tours and photos, Burnett says. The team recently introduced user reviews, differentiating itself from larger manufacturing databases such as ThomasNet.com, which lists North American manufacturers and suppliers.
The impetus for the project came from Burnett, a watch designer originally from Detroit who in 2007 opened a watch-design company, Steel Cake, in Brooklyn, N.Y. "I sourced parts overseas in Asia and it was very difficult to find a manufacturer I could trust. I ran into many that wanted me to order a minimum of 1,000 pieces, which gets quite costly," he recalls. After manufacturing errors and overseas shipping cost him $40,000, he began searching for domestic producers. "Once I found one, I could design a new watch, have a prototype in a week and get a production run of as little as a dozen pieces another week later."
That kind of ease and speed must also be attractive to other small design brands, he thought, but many of his fellow designers complained about sourcing problems. Menendez, then an analyst at Goldman Sachs who was working at the Brooklyn Bakery in her spare time, noticed the same thing. "I met a woman in New Jersey who wanted to make a fleece mat to absorb spills from children and pets, and she was shocked she could not find a local manufacturer. She wound up with a source in Ohio, spending three times what she could have paid at a factory right across the water in New York City."
Ryan Brett Clott, 26, has faced the same problems with his nascent travel brand, NOM.A.D. Design. "I have spent so much time trying to find sample makers and materials" says Clott, who hopes to launch his line of travel bags in spring 2013. He found a wool supplier to buy herringbone fabric for his linings through Maker's Row. "I had no idea there was a company selling wool that has been around 100 years right here in New York."
Since he discovered the site a month ago, Campbell has found new suppliers on Maker's Row for hat fabrics and for customers of his 10-employee business who often ask him for sourcing help. "I was talking to another business owner, saying how awesome would it be if there was a Facebook-y set up for manufacturers, like a one-stop resource. And the next day, these folks came by my office and left their card," he says.
Ushbir Gadh, president of belt-maker Universal Elliot, claimed his listing on Maker's Row when the site went live in October and has gotten two sales leads. He says he can't compete with overseas belt manufacturers, who sell basic belts for $1, compared to his $4 wholesale price. But his 15-employee factory in Manhattan can offer quick turnaround times and quality customer service, things that come in handy when faulty belts must be scrapped or overhauled at the last minute. "I fix things for them and they give me as much work as I can handle," says Gadh. "That's the reason people are willing to pay a little bit extra: We offer them reliability."
Before it's here, it's on the Bloomberg Terminal.
LEARN MORE