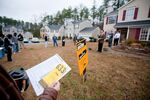 The $25 billion National Mortgage Settlement signed in February was supposed to right the wrongs exposed in the robo-signing scandal and provide relief to homeowners, with a focus on making mortgages more affordable by reducing how much borrowers owe. In a new report from Joe Smith, the settlement's monitor, one number jumps out: About half the payouts so far are being used to clear troubled mortgages but aren't keeping people in their homes.
Banks have provided homeowners $20 billion in relief since March. Of that amount, 49 percent has gone to forgive debts in short sales, whereby a bank lets a borrower sell his or her home for less than the outstanding balance on the mortgage. Banks have waived an average of $115,672 in unpaid principal balances in 113,534 short sales. Typically, a short sale is better for a borrower than a foreclosure, but it still means homeowners ultimately lose their houses.
Bank of America, JPMorgan Chase, and Wells Fargo leaned most heavily on short sales. Chase has granted almost $4 billion in short sales, which is about two-thirds of its relief. Bank of America took credit for $7.4 billion in short sales, or 63 percent of its efforts, and Wells Fargo has done $1.2 billion, which is half of its completed relief.
Short sales make up only about 30 percent of Citigroup's and Ally's efforts. Instead, almost half of Citigroup's relief has come from principal reduction on first mortgages and reducing or forgiving second mortgages. About 30 percent of Ally's relief has gone toward what's called "deficiency waivers," in which a bank agrees not to go after a borrower for the part of an unpaid mortgage that the bank didn't recoup in an foreclosure. That also doesn't keep people in their home, but it does release a debt that could haunt borrowers.
The new short-sale data have also led some homeowner advocates to express disappointment that banks haven't forgiven more debts in a way that will help borrowers stay in their homes. Last week we wrote about how other parts of the robo-signing settlement have been facing criticism, too. The three-year settlement requires that trimming first and second mortgages must account for 60 percent of each bank's obligations, which means they'll have to start stepping up their non-short-sale efforts to meet their end of the bargain.
Before it's here, it's on the Bloomberg Terminal.
LEARN MORE