In Defense of Guy Fieri
by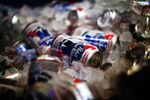 Mr. Fieri not only serves truly horrible-tasting food, an awkward origami of clashing aleatory flavors, but he serves this punishing food emulsified with a bombastic recasting of deep-fried American myth. Mr. Fieri's most egregious transgression isn't what he puts into his fellow citizens' stomachs, it's how the cynical slop interfaces with what he puts into their minds.
—Joshua David Stein, "The Crispy Crimes of Guy Fieri: Junk Food T.V. Star Takes Times Square," New York Observer, October 2, 2012.
Hey, did you try that blue drink, the one that glows like nuclear waste? The watermelon margarita? Any idea why it tastes like some combination of radiator fluid and formaldehyde?
—Pete Wells, "As Not Seen on TV: Restaurant Review: Guy's American Kitchen & Bar in Times Square," New York Times, November 13, 2012.
It's a great way to make a name for yourself. Go after a celebrity chef that's not a New Yorker doing a big concept in his second month.
—Guy Fieri to Savannah Guthrie, Today Show, NBC, November 15, 2012.
Would everyone take a deep breath?
I cannot report on the watermelon margarita, as I failed and did not get to it. I succeeded in sipping the jalapeño margarita and then testing a basic Guy margarita. Neither tasted of radiator fluid and/or formaldehyde.
I say this by way of introducing my glorious 87 minutes at the above Times Square emporium. (And it's an emporium as well as a restaurant.)
The above two rants, and I do mean rants, signal only the complete and total cluelessness of presumed adults. I have it on very good advice that Stein and Wells are total class acts. So why the angst over basic American food, served basic to basic Americans visiting the tourist mecca of America?
What is this, the Hamptons?
To my right were a biker couple from New Jersey. They were replaced by three young lads out on the town 12 days before the rent was due. All chowed down, not complaining of the clashing aleatory flavors.
Another round was ordered.
I have deposited my amateur food review on my Facebook page. So let me deposit this and we will move on to important things like the nation's debt and deficit, Gaza, and Red Sox Cliff.
This uproar is nothing but "an effete corps of impudent snobs who characterize themselves as intellectuals" pounding on the cuisine, the food, the diet of middle-class America.
Get over it. Get back to important work like explaining why Marea has the most uncomfortable bar stools on the planet.
I'll have a PBR. Discuss.
Before it's here, it's on the Bloomberg Terminal.
LEARN MORE