A Short To-Do List for Intel's Next CEO
by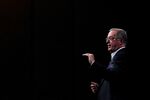 With Paul Otellini heading in May to the nearest 18-hole course, speculation is rampant about who will replace him. That's a parlor game this post isn't going to get into (although you can see a good roundup of likely candidates here). But no matter who gets the job, the new chief executive officer of Intel has a refreshingly brief and direct list of priorities for the months and years ahead.
Evercore analyst Patrick Wang put it best: "Intel's new CEO has one task and one task only," he said. "Succeed in mobile."
There's no doubt that Otellini has fulfilled Intel's primary objective of dominating PCs and laptops. Though Intel's competitor, Advanced Micro Devices, proved an able (and at times, superior) rival, that marketplace has settled into a fairly stable picture, with Intel continuing to command nearly 80 percent of the processors in notebooks and desktops.
But in mobile, the chipmaker serves less than 1 percent of the market. There, Intel has ceded ground to designs from British chip designer ARM (ARM:LN). ARM chips are made by Samsung (005930:KS), Qualcomm, Nvidia, and others and are in just about every smartphone and tablet you can think of. Here, Intel has a steep hill to climb. "The new CEO's job is to grow mobile market share to somewhere north of 25 percent," says Patrick Moorhead, a former AMD executive and now an industry analyst. According to Moorhead, Intel is not lacking technologically. "After two failed attempts at developing a mobile processor," he says, "Medfield [Intel's latest mobile processor] shows they can create a competitive mobile product."
But a manufacturer also has to sell what it makes, and that's where things can get a little tricky for Intel. For starters, you have Samsung, the dominant manufacturer in mobile. Samsung is also the world's second-largest semiconductor manufacturer, so it's going to continue making chips for itself. Apple takes up another big chunk of the mobile and tablet market: Its processors are designed in-house, but manufactured by Samsung.
That leaves Intel with the not-Samsung/not-Apple part of the mobile market to go after. But it's not even this simple, because that territory is already being fought over by Qualcomm, Nvidia, and Chinese manufacturers such as Fuzhou Rockchip Manufacturing. "Those Chinese manufacturers can do things so cheaply to satisfy domestic Chinese demand, " says Wang. "Even Qualcomm and Nvidia can't touch them."
Everyone who follows Intel knows it remains the company to beat when it comes to technology and manufacturing ability. The company's new CEO can rest assured that those parts of the company are where they need to be. But the mobile market is so competitive, with so many new players, that having a great product is only half the battle.
Before it's here, it's on the Bloomberg Terminal.
LEARN MORE