pursuits
Office Bag Lunch: Chef Tom Douglas's Tomato Soup
By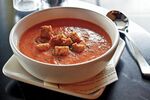 It's been a big year for Seattle chef Tom Douglas, who, in addition to owning 13 restaurants, was named James Beard's 2012 Outstanding Restaurateur. In late October, he also published his fourth book, The Dahlia Bakery Cookbook, which rose to No. 14 on the New York Times bestseller list for advice and miscellaneous books. From the new book, Douglas shares a recipe for creamy tomato soup, which was inspired by his mother's cooking. His mom admits that it "might be as good as hers," Douglas says. "Now that's a real compliment!"
Ingredients
Serves 6
1 tbs unsalted butter
1 tbs olive oil
1 medium onion, thinly sliced
3 garlic cloves, smashed with the side of a knife and peeled
5 cups canned whole tomatoes in juice
1 cup water
2⁄3 cup heavy cream
2 tbs kosher salt, plus more as needed
¼ tsp freshly ground black pepper, plus more as needed
¼ tsp crushed red pepper flakes
¼ tsp celery seed
¼ tsp dried oregano or
½ tsp finely chopped fresh oregano
1 tbs sugar
Instructions
1. Heat the butter and olive oil in a large saucepan and sauté the onion and garlic until the onion is translucent—about 5 minutes. Add the tomatoes, water, cream, salt, red pepper flakes, celery seed, oregano, and sugar. Bring to a boil, then reduce heat and simmer for 15 minutes.
2. Remove from the heat and purée in batches in the container of a blender. Return the soup to the pot and reheat to a simmer, seasoning to taste with more salt and pepper.
3. Make croutons (see below).
4. Serve soup hot, garnished with croutons.
Brown butter croutons
3 tbs unsalted butter
4 slices European-style rustic bread, crusts removed, cut into ¾- to 1-inch cubes (30 to 36 cubes), kosher salt, and freshly ground black pepper
Preheat the oven to 350F. Heat the butter in a small pan over medium heat and cook, stirring often, until the butter is golden brown and aromatic—about 3 minutes after the butter melts. Remove from the heat. Put the bread cubes in a bowl and pour the brown butter over them, tossing to coat. Season to taste with salt and pepper and toss again. Spread the bread cubes on a baking sheet and place it in the oven. Bake until the croutons are toasted and golden—about 20 minutes—stirring occasionally. Remove the pan from the oven.
Before it's here, it's on the Bloomberg Terminal.
LEARN MORE