business
Chat Transcript: 2012 Best B-Schools Ranking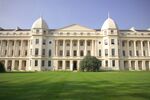 The University of Chicago's Booth School of Business ranked No. 1 for the fourth year in a row on Bloomberg Businessweek's 2012 ranking of best business schools. There were a few surprises this year, including a leap from 42 to 24 by University of Maryland's Smith School of Business. The tabulations for the employer survey results changed, and it had consequences for some MBA programs. In addition London Business School took the top spot among international schools for the first time.
Recently, Bloomberg Businessweek editors Louis Lavelle (LouisBW) and Geoff Gloeckler (GeoffBW) fielded questions about these results and the methodology from reporter Francesca Di Meglio (FrancescaBW) and the public. Here are edited excerpts of their conversation:
Bleu-Is: Can you tell us why University of Maryland's Smith School of Business advanced?
GeoffBW: The big reason for Maryland's jump was increased student satisfaction. They were sixth overall for the three-year period, but second for 2012 alone. Based on the comments we collected, students really appreciated how quickly administrators addressed their concerns or complaints about the program.
ziakhan: How much influence do school administrations have in designing these surveys?
GeoffBW: Very little. We change the surveys periodically based on changes in programs and the MBA market, but most of the time school administrators are not consulted.
Brian: What drove Columbia Business School's plunge? Students or recruiters?
GeoffBW: Columbia's drop was mostly due to student satisfaction. In 2010, it was 10th in the student rank; this year it fell to 20th. Many of the student complaints were about the core curriculum, which is going to change starting next year. Columbia did move up one spot in the employer rank, though.
TS: How can Indiana University's Kelley School of Business be ranked No. 1 in such important categories as top professors and No. 1 in career services and still be ranked No. 15 overall?
LouisBW: Because it ranked No. 20 with employers and 49 on intellectual capital.
wILdthINg: Did the Johnny Football [the Texas A&M freshman quarterback Johnny Manziel, who led the school to victory over previously unbeaten Alabama] phenomenon help Texas A&M's Mays Business School rise in the rankings?
GeoffBW: My favorite question. A&M did have a big jump in student satisfaction, but the survey closed before football season. I did hear that Manziel's a business student at Mays, though.
GoGreen: What are your thoughts on Michigan State University's Broad Graduate School of Management, Brigham Young University Marriott School of Management, and University of Minnesota Carlson School of Management dropping out?
GeoffBW: They are all ranked, just not in the top 30. They are 36, 32, and 33, respectively.
Shilen: How many schools are in the second-tier category this time?
GeoffBW: Sixty-three schools are ranked this year in the U.S. ranking, and 19 in the international, though we aren't calling it the second tier anymore.
acs3204: Can you tell us how the Johnson School was able to make such a big jump? It always seemed like a best-kept secret kind of school.
GeoffBW: No secret anymore. Cornell University's Johnson Graduate School of Management moved up six spots thanks to big jumps in both the main ranking factors. It is up 11 spots in the employer ranking and six spots in the student survey.
wILdthINg: Was "ethics" considered in ranking MBA programs and B-schools overall?
GeoffBW: Yes, ethics is part of the student survey.
gomab: How did the criteria change this year?
LouisBW: For the first time this year we changed the way the employer survey results are tabulated. It's a little complicated, so bear with me. First, we calculated the average for the number of times a school was mentioned by employers over the last three rankings, and found the median for all the schools. Where the average number of mentions for a school was greater than or equal to the median value, the recruiter score was unadjusted. When the average number of mentions was less than the median value, the recruiter score was multiplied by the ratio of the average number of mentions to the median number of mentions. By doing so, schools with few mentions that are all highly positive will no longer have an advantage over schools with many mentions.
CedarHill: Why did SMU place as it did?
GeoffBW: SMU's Cox School of Business was hurt by the methodology change in the employer rank, along with two other top-30 programs—Maryland and Texas A&M. In total, 31 U.S. programs were impacted.
Novak_Djokovic: Harvard Business School is ranked No. 2 again this year?
GeoffBW: Yes.
Sharon: Where did Rutgers Business School place?
LouisBW: Rutgers is No. 61.
OxfordSBS: Could you tell us the main factor that pushed Oxford Saïd Business School up to fifth?
GeoffBW: Oxford has seen steady improvement in its student satisfaction score over the past three rankings cycles. Also, the school's employer score jumped quite a bit after a less-than-stellar 2010. Oxford is one of only three schools in the ranking that finished in the top 10 of all three rankings categories. The other two schools are LBS and INSEAD.
digitalarun: I noticed that all the ranked international schools are from Canada or Western Europe. Do you consider any of the Asian schools when creating the ranking?
GeoffBW: Yes, and a few participate. They simply did not make the response rate cut. Hong Kong University of Science and Technology is ranked 18th.
waltetod: I'm curious how the rankings released earlier this week (Student Happiness, Teacher Rankings, Career Services Rankings) factored into the overall rankings. Obviously the top five schools were highly ranked in none of those, so what are the other factors?
LouisBW: The rankings released earlier in the week were based on data we collected for our B-school profiles, and in a few cases for the rankings. But individually they represent only a tiny fraction of our overall ranking. The big drivers for the BW ranking are three years of student satisfaction surveys, three years of recruiter surveys, and five years of each school's faculty publication record.
MBA_guy: Can you tell us what the employer rankings were?
GeoffBW: Sure. Top five U.S.: 1. University of Chicago, 2. University of Pennsylvania Wharton School of Business, 3. Harvard University, 4. Northwestern University Kellogg School of Management, 5. Stanford Graduate School of Business.
MBA_Shopper: My question is regarding York University's Schulich School of Business. Even though it has made the lists for worst teachers, least satisfied students, and worst career placement services, I'm pretty sure it will be near the top of non-U.S. MBA programs. Why is that?
GeoffBW: York was hurt by the methodology change in the employer calculation, and fell to 14th overall. It also experienced a dip in student satisfaction. There were some complaints about career assistance and alumni relations.
Rick: Did Syracuse University's Whitman School of Management place in the rankings?
GeoffBW: It is 55.
doc2575: Is the gap between the programs in the top tier and those in the second tier getting bigger or smaller?
GeoffBW: There is a large gap, and I'll answer this for both rankings. The international rank is interesting in that you have the top two schools, LBS and INSEAD, which are very close together in terms of total score, then you have the rest of the schools, which are quite far behind. For the U.S. schools, Chicago is pretty far out front. Then, the next seven schools are grouped closely together. After Ross, there is a dip. Pay attention to the index number in the table. It will show you how close/far away schools are from each other.
GoGreen: With the new employer ranking methodology, are smaller schools put at a disadvantage?
GeoffBW: I don't think so. I think it actually levels the playing field. What we found was that smaller and regional schools had a big advantage in the past. Now it's more even across the board.
pepe: With all due respect to you and all the schools, based on what parameters are University of Virginia's Darden School of Business, University of Michigan's Ross School of Business, Johnson, and Duke University's Fuqua School of Business better than Tuck?
LouisBW: Darden, Ross, and Fuqua all did better than Tuck on the recruiter surveys. Cornell did better than Tuck on the student surveys. The numbers don't lie.
lrw: Where was Carnegie Mellon University's Tepper School of Business ranked?
LouisBW: No. 11.
MC: Where was Washington University's Olin School of Business ranked?
GeoffBW: No. 31.
Katz: What schools were excluded and why?
LouisBW: There will be a complete list of these schools in the methodology story online. They either lacked an adequate response rate in our student survey, recruiter survey, or both.
GrahamJ: After being ranked fifth for the last four international rankings, LBS moved to No. 1. What brought this on?
GeoffBW: LBS jumped to the top spot thanks to a very strong showing in both main ranking factors. Student satisfaction increased for the Class of 2012, and it helped that the 2006 stats were no longer part of the score calculation.
johnstaszak: How do we access the rankings?
LouisBW: You can pick up a copy of the magazine on newsstands, check out all the content that will be
posted in a few minutes at www.businessweek.com/business-schools, or view the rankings package on your iPad.
Shilen: Has Wake Forest University School of Business improved in the rankings?
LouisBW: The school is 44th, up from 48th last time.
Boston_Pete: What schools increased or decreased the most?
GeoffBW: Maryland jumped 18 spots. The big reason for that was increased student satisfaction. They were sixth overall for the three-year period, but second for 2012 alone. Based on the comments we collected, students really appreciated how quickly administrators addressed their concerns or complaints about the program.
McDonnell: Can you explain more about what you mean by "intellectual capital"?
GeoffBW: Sure. It's based on faculty research published in 20 top academic journals. The list of journals is available in the FAQ on the website.
abcschool: Where do Schulich and University of Toronto's Rotman School of Management stand?
LouisBW: Schulich is 14, down from 9. Rotman is 11, down from 8.
V: Why is Yale School of Management ranked so low? I know Dean [Ted] Snyder just arrived at the school. Has BW seen any momentum from that?
GeoffBW: Students seem very excited about [Snyder] being there. It's the employer score that's keeping Yale down.
enginerd: Last week in your job placement ranking, Emory University's Goizueta Business School placed No. 1. Yet its overall ranking stayed the same. Any insight on why that might be?
LouisBW: Placement is not something that's a factor in our ranking. We use the recruiter surveys instead, and the two are not always a perfect match. I should point out that because of some misreporting by a few schools, the placement rankings have changed. Emory is now tied with ESADE for No. 1 on the "best" ranking. And IMD is no longer tied with USC Marshall School of Business for No. 1 on the "worst" list. It's off the list entirely.
SG: What contributed to Chicago Booth's success again this year?
GeoffBW: At this point, Booth is in a class by itself, especially in the eyes of employers. It is the top school in that part of the ranking. And for everyone that is asking, Chicago is the top school overall, LBS for the international rank.
Kile: I'm a current student at Kellogg. Do you see any positive or negative trends over the last three years in our student satisfaction, recruiter surveys, or faculty publication records?
GeoffBW: Kellogg is very strong in the employer ranking (No. 4). For you as a current student, I'd say this is a good thing.
chris_2: Do you know where University of Missouri, Columbia's Trulaske College of Business was ranked?
GeoffBW: Fifty-sixth and 14th in the current basketball polls. M-I-Z!
Charla: Are you releasing the specialty rankings today or in December?
LouisBW: Not today. We haven't decided when they will be published.
SEQ: How much does intellectual capital weigh into the rank?
GeoffBW: 10 percent.
av: What accounted for the University of Texas-Austin McCombs School of Business's jump from 25 to 19?
GeoffBW: A big jump in the employer rank—29 to 15—is the reason McCombs moved up six spots.
TS: Indiana (Kelley) was No. 1 for professors, career services, and satisfaction yet only No. 15 overall? Why?
GeoffBW: Those questions are only part of the overall student survey. Also, the student score is based on three rankings. That being said, Kelley is No. 1 in student satisfaction, No. 20 in the employer rank.
oskibabe: Where is Boston University School of Management?
LouisBW: In Boston, and 39th.
Fuqua: Which were the top schools in intellectual capital this year?
GeoffBW: Duke was No. 1.
WoodenStone: After reading last week about the decline in employment from USC, I was surprised to see it only dropped two spots. Did increases in other areas minimize the impact of the employment figures?
GeoffBW: Yeah, 25th overall in student satisfaction.
LouisBW: Before we call it quits, I want to make sure everyone takes a look at the ranking package online. There are new profiles that incorporate photos and videos and graphics—and they have rich new data on MBA pay by industry, functional area, and region, and for many schools at 10 to 20 years post-graduation. There's also a brand-new comparator tool that allows you to compare schools on more than 100 data points. And please visit the forums; we brought them in for a much-needed, long-awaited overhaul. Let us know what you think about all the changes. We'll be fine-tuning them over the next few months to make the site better.
(
Corrects intellectual capital ranking for Indiana University. Also corrects to reflect revised overall rankings for University of Minnesota and Michigan State University.
)
Before it's here, it's on the Bloomberg Terminal.
LEARN MORE