business
When Growth Isn't the Right Plan
Julian Birkinshaw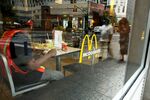 McDonald's recently announced a 2 percent decline in same-store sales for the first nine months of the year. This caused a flurry of concern among investors, who had come to expect steady growth from the world's largest hamburger chain.
What should McDonald's do? Well, it's instructive to go back to the late 1990s, when the company was feeling the heat from the healthy-food lobby, and had overextended itself with too many new stores. In 1999 it made its first-ever job cuts, and it embarked on a series of acquisitions into adjacent areas: Chipotle, Aroma Café, Donatos Pizza, and Boston Market, as well as a 33 percent stake in Pret a Manger. None of these new businesses helped at all. The company reported its first quarterly loss in 2002. A new team was brought in, and the "I'm Lovin' It" campaign, launched in 2003, helped to refocus on the core business. The noncore businesses were gradually sold off, but a lot of money and executive attention was wasted in the process.
Many companies face this dilemma. The market for the core product matures, competition gets tougher, and there are no obvious pathways to growth. But the stock market expectations are such that the management team feels compelled to seek new sources of revenue in increasingly risky areas. The result is usually failure, retrenchment, and a pledge to refocus on the core business. This is what happened to McDonald's from 1999 to 2003. Lego went through a similar turnaround in the same period of time.
So what is the alternative? A much better approach is to be honest about what you are good at, and to keep on doing it better than anyone else. I don't believe McDonald's shareholders wanted management to dabble in new business areas in 1999; they wanted McDonald's to be the best burger restaurant in the world, and to make lots of money doing it. Of course, this isn't as sexy a strategy as trying out new formats and acquiring companies in adjacent markets, but it's actually a much smarter long-term bet.
Here is an example of what I am talking about: U.K. retailer WH Smith has faced a decade of falling sales in its core market. It must have been tempting for Chief Executive Officer Kate Swann to try something radical—a move into online selling, new shop formats, a big acquisition—but instead she stuck to what the company knew best. She focused on operational efficiencies, pushed higher-margin products like confectionery, and sought growth in the few segments where it was possible, such as airports. From 2004 to 2012, WH Smith's net profits grew by 90 percent while its top-line revenue shrank by 15 percent. An impressive feat—not glamorous but highly effective, and exactly what the shareholders wanted.
There is a delicate tension between what shareholders really want from their CEOs and what CEOs find alluring. It is often claimed that executives are only pushing for growth to satisfy their shareholders' demands, but this is not correct. Shareholders are very good at differentiating between the shares they buy for growth, and the ones they buy for their dividend. McDonald's and WH Smith are mature, well-run companies that are leaders in their respective industries and generate good cash flow. Shareholders don't want their management teams to take excessive risk; they are content with a steady and predictable performance in line with the market.
So let's hope McDonald's has heeded the lessons from its own experience a decade ago. The bottom line is simple: When you are operating in a mature market, going for growth is a risky game. New business developments rarely work out well, and they can be a massive distraction. You are typically far better off refreshing your offerings to your core customers, and adjusting your shareholders' expectations to the realities of the market you are operating in.
Before it's here, it's on the Bloomberg Terminal.
LEARN MORE