What Is David Petraeus's Role in the New Call of Duty?
Paul Wachter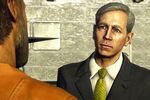 After issuing his resignation statement on Friday, CIA Director David Petraeus has kept out of the public eye, and yet the general has been popping up on millions of television screens in a new video game, Call of Duty: Black Ops 2. The game, a first-person shooter developed by Activision, is the highly anticipated follow-up to Call of Duty: Black Ops, which reached $1 billion in sales in just six weeks.
In Black Ops 2, set in 2025 (with many flashbacks), Petraeus has a cameo role as the Secretary of Defense. Petraeus appears at several points throughout the game, starting on the deck of an aircraft carrier, the U.S.S. Barack Obama, awaiting the arrival of the game's villain, Raul Menendez, a Nicaraguan narcoterrorist who starts a global insurgency network, Cordis Die, to overthrow the world's 1 percent. (He's sort of like Bane in the last Batman movie, without the mask or muddled voice.)
Petraeus, who is voiced by actor Jim Meskimen, talks to Admiral Briggs, the commander of Navy SEAL David Mason, the shooter whom the player controls. While Menendez is in custody, there's still threat of war. "The last order to DEFCON 3 was given by Secretary Rumsfield almost 25 years ago," Petraeus says. And when Menendez is escorted from the plane, Petraeus offers the wry greeting, "President Bosworth sends her regards." (President Bosworth sounds a lot like Hillary Clinton.) Petraeus may have spoken too soon. Menendez's forces attack the carrier and free him—his capture was a ruse to allow Menendez to take over computer controls of the U.S. drone force, which he employs to target Chinese cities as well as the president, who is traveling with Petraeus.
At this point things are looking pretty bleak. Petraeus makes his final speaking appearance and explains Menendez's nefarious plot to the president. "Is this it? Is this the end?" the president asks him. "Madame president," he replies, "may God help us."
Of course, the good guys prevail. And after one of the possible triumphant endings to the game, there's a concert scene where Petraeus and the president can be seen fist pumping, Jersey Shore-style.
Despite the questionable dance moves, the overall portrayal of Petraeus is a flattering one, in keeping with his generally hagiographic public treatment prior to the revelations of his extramarital affair. Activision has seen fit to issue a public statement indicating that "General Petraeus was not paid, was not involved in the creation of the game, and has not been asked to endorse the game." If Petraeus objects to this Call of Duty avatar, he could sue. There's precedent for public figures successfully suing gaming companies for unauthorized appearances. In 1999, for instance, a group of retired baseball players filed suit against several video game companies, which had used their likenesses without permission, and were awarded hundreds of thousands of dollars. Then again, Jim Brown's 2008 lawsuit against Sony and Electronic Arts for using his likeness in Madden NFL was dismissed by a California court that defended Electronic Arts's free speech rights. But surely Petraeus isn't concerned with the legal implications involving this alternative universe—he has other things on his mind right now.