Tory Burch v. Chris Burch v. Judge Strine
by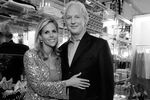 Chris Burch, a venture capitalist who has helped launch dozens of fashion brands, is best known for the one he started with his wife, Tory, in 2004. When they divorced two years later, he remained on the board of directors of Tory Burch LLC. It was a pleasant enough relationship until early this year. That's when Chris Burch introduced a new brand, C. Wonder, that reminds an awful lot of people of the Tory Burch brand—especially Tory Burch herself. Except his is a lot more affordable.
Now they are fighting in court, with lawsuits of their own. He is suing her for breach of contract related to his stake in Tory Burch LLC. She is suing him for stealing trade secrets to produce a low-end, knock-off brand.
Recently their lawyers appeared in the Court of Chancery in Delaware, where Judge Leo Strine presides. They were there to schedule a trial date, normally a perfunctory proceeding. But Judge Strine was in an expansive mood and did most of the talking. He had some choice comments on Burch v. Burch, preppy clothes, and the WASPs he presumes are their customers. Here are some excerpts from the conference, which took place earlier this month.
Strine on his his first encounter with the preppy lifestyle: "I get all the preppy clothier cases. … I think because I'm culturally steeped in it since I was nine years old and learned what was hard for a kid from Baltimore, duck shoes. What's a duck shoe? Then you see all these freaks wearing this really ugly—I like L.L. Bean, but those duck shoes are ugly. I mean, there' s no way around it."
Then he offered his first take on the accusations of copying: "I think for both sides, it might come as news, you know, there's really nothing all that new about bright clothing and all that kind of stuff. … So, you know, no one—when Tory Burch became popular, no one said, 'Oh, my gosh, this is the newest thing that ever happened.'"
On building a brand with your spouse: "It's going to be interesting because there's what Tory Burch was before she met Christopher Burch and there's what Christopher Burch was after Tory Burch became the Tory Burch in the New York Times, and there's maybe influences that go in a lot of directions here."
He had something to say about the shopping habits of WASPs, too: "Real WASPs actually don't go and pay full Polo price. … They don't pay full Polo price at Macy's. No way. They actually will find a bargain. That's how they got to be, you know, WASPs."
And finally, on the April trial date: "I think if you read [John] Cheever, go see the new Virginia Woolf revival, and watch Mad Men, we'll be all geared up and in the mood for this sort of drunken WASP fest."
Where do we get tickets?
Before it's here, it's on the Bloomberg Terminal.
LEARN MORE